The boys were SO excited last week when we took them to visit the real life Buzz and Sheriff Woody in Walt Disney World's NEW Toy Story Land! Since we hadn't stepped foot in Hollywood Studios since the life-sized toy addition was revealed, I knew there would be things I'd wished I had known prior to our visit! I was definitely right about that! To set you up before your trip, I'm sharing a list of 10 things we wished we'd known before our trip to Andy's back yard!
1. PARK THAT STROLLER! Disney did a killer job at keeping the rides, dining, character meet & greets, and merchandise locations all within a pretty compact area in Toy Story Land. Basically, it's not TOO huge that you'll be desperate for your stroller from one ride to the next but, it's also large enough that you should still carry a water or two! So, park your stroller at the stroller parking area in front of Toy Story Mania and get to checking off your list of MUST DO's in TSL! The last thing you want is to miss something awesome because you're juggling an empty stroller if your little wants to be out walking on their own to see all the things!
2. PLAN YOUR RIDES & FAST PASSES IN ADVANCEÂ Because TSL is SO new and almost everyone who enters Hollywood Studios comes with plans to visit Andy's backyard, the lines can get pretty intense. Make sure to book your fast passes in advance when you plan your trip. Like, FIRST THING! Basically, book your room or purchase your tickets, and hop over to the fast pass section of your My Disney Experience ASAP! Fast passes go super quick for Slinky Dog Dash especially so, if that's on your list, check there first! It's also good to note that if you can't get a fast pass for one of the rides, you should check back daily! Guests are constantly changing their itineraries and plans the closer it gets to their trip dates and you may come across an opening that someone has cancelled because it no longer fits in their day!
3. SKIP THE LINES FOR LUNCH Disney has hopped on the mobile food ordering train and I SO wish I had remembered this during our first trip to TSL! The boys were itching to eat from Woody's Lunch Box but, the line wrapped around both sides and it had started to pourrrr! With this quick service dining restaurant, there is no covering except for the umbrellas over the tables or over the ordering windows! So, even waiting in line at that point would have possibly resulted in us eating our lunch in the pouring rain! Easily utilize the Disney mobile ordering service to skip the line and get your lunch in a jiffy!
4. DON'T BLINK…EVER Totally kidding here but, seriously keep your eyes on the lookout! As much as we love hunting for hidden Mickey's, nothing was cooler to see than all of the amazing details inside the ride queues at TSL! Once you're in line, it can go from a stand still to moving up 20 feet quickly and in that short distance, there will be a lot to see! Also, the regular wait lines at Disney often have different decor and detailing than the fast pass lines! So, if you're super committed to seeing more Disney design magic, visit the ride during slower times and go through the regular wait line after using your fast passes!
5. MAKE TIME IN YOUR PLANS TO DO A WALK-THROUGH  I know at Disney the time goes fast and you want to get as much out of each day as possible but, I guarantee you won't regret popping into TSL early, before your fast pass times, just to just walk through and admire all that there is to see! Disney did such a phenomenal job with the details here and spending the extra time just to take it all in, is worth it! The idea for TSL is that you are a toy amongst others that Andy is playing with in his backyard. Meaning, you're miniaturized and being so small in such a big world could lead to missing special details that you may wish you'd seen closure up, once it's too late!
6. KEEP YOUR EARS OPEN When you enter TSL, make sure to listen closely! You'll hear Woody welcoming you into TSL! One of the boys' favorite things about TSL is the Green Army Patrol. But, they come by pretty quick and we missed them TWICE because we were preoccupied in line to meet Buzz and shuffling all of our autograph books and pens out of the stroller basket! So, keep your ears open for men shouting and drumming! Once you hear them, head a few feet in the opposite direction, turn, and get your camera ready! Give them a chance to walk TOWARDS you! At times, they even pull guests out from the crowd to play games or take special photos!
7. KNOW HOW TO TAKE THE BEST PHONE PHOTOS BEFORE YOU GO Â One of the greatest perks Disney has is the photo pass but, for those of us who don't always want photos in front of Cinderella's castle, character meet & greet images, or seasonal backdrop photos, we're always excited to find awesome photo spots and ways to capture the best images! Because there are SO many larger than life details in TSL, you cannot go wrong shooting UP! The perk of shooting up towards the sky? You don't get all of the crowd in your shot! You'll also make out with the best photos by hitting ALL of the TSL Instagram Worthy Walls! Head HERE to get a list from Patty at My No-Guilt Life!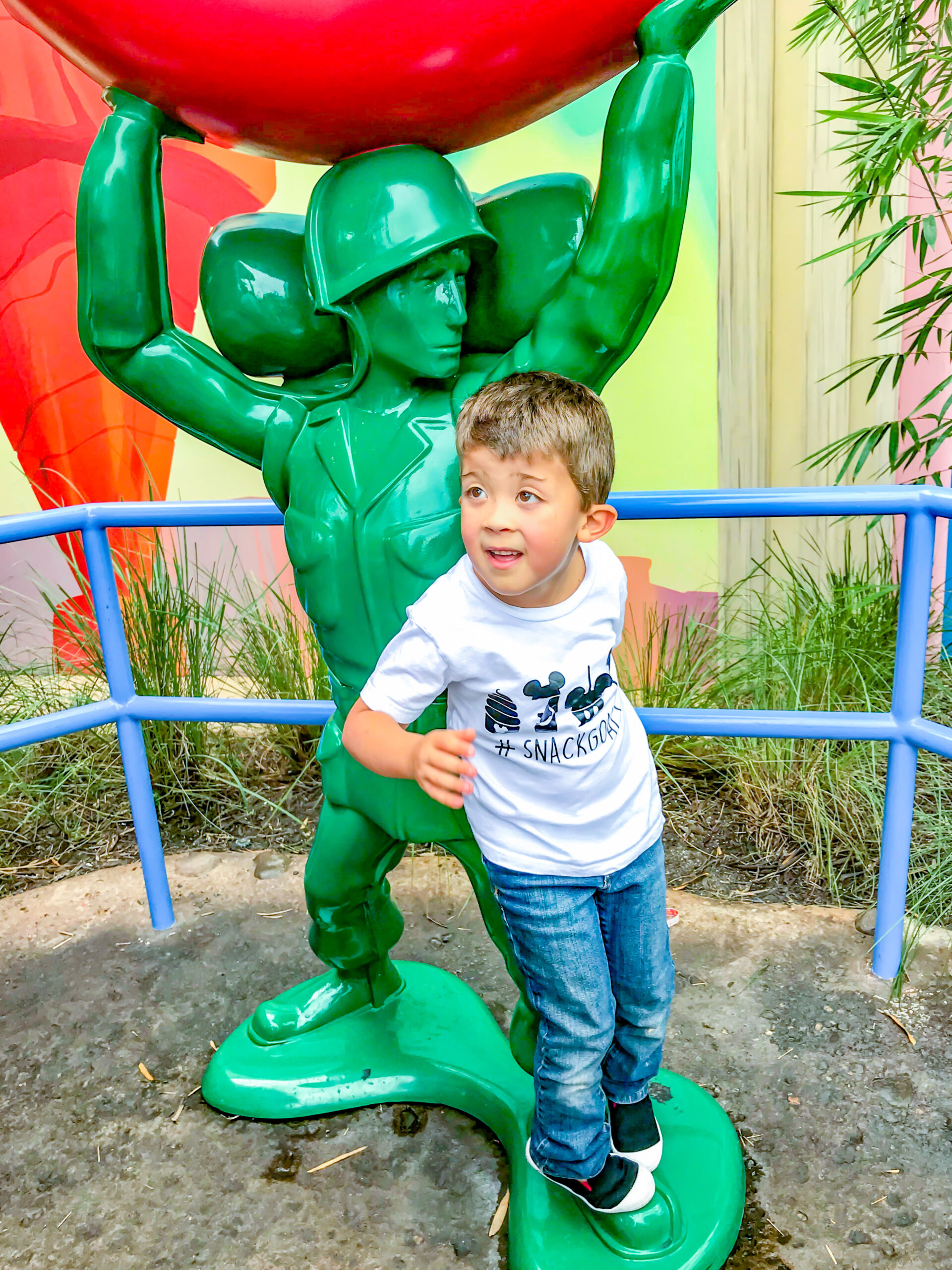 8. KNOW THE HEIGHT REQUIREMENTS This one might be a no-brainer but, really, it's best to know if you have small children! Poor K thought for sure he'd be able to ride Alien Swirling Saucers with little Linc but, with the height requirements, Linc was about an inch too short and if it hadn't been for having another adult along with us, we would have had to skip out on this one and dealt with a meltdown in front of the queue entrance! Know the height requirements for Slinky Dog Dash and Alien Swirling Saucers before you go! Alien Swirling Saucers – 32 inches (81 centimeters) or taller. Slinky Dog Dash – 38 inches (97 centimeters) or taller.
9. LOCATE THE SHADY/COVERED SPOTS There isn't much covering in TSL aside from the queue lines and umbrellas for diners at Woody's Lunch Box! When we walked out of Toy Story Mania, it started to pour and everyone in the park was huddled under the dining umbrellas and crowded in the bathroom! We were able to spot a shady tree covered area in the back corner of the stroller parking section and it was perfect! We even started collecting other families in our secret spot!
10. USE THE POTTY Before heading out of TSL or starting your tour through Andy's backyard, head to the bathrooms! TSL has some of the BEST Disney World bathrooms as far as space and small lines go! Believe it or not, It's also a pretty cool photo spot too!
We absolutely LOVE the new Toy Story Land and the boys are still ecstatic that they met the real life Buzz! We can't wait to hop back into Hollywood Studios now that we have a pretty good idea on how to amp up our time in Andy's backyard!
If you loved this post, head HERE to get even more Disney tips and secrets to give your family the most magical experience of a lifetime!!
---