If you're a mom with boys who are LEGO crazy like mine, this post is FOR YOU! Read below for tips, tricks, and my favorite supplies for some AWESOME LEGO organization.
First, you'll need to start with clean up and color sorting.
You'll need:
For our LEGO bricks, we use this collection from IKEA. The bins slide out and have lids, the unit fits easily into a standard closet, and it has a sturdy table top for building.
The time this task will take really depends on the amount of LEGOs that your family owns. Don't pressure yourself to complete the entire task in a day or two if you have 5000+ bricks and pieces. Our LEGO collection took me a total of 5 days on and off to completely organize and color sort…and we still have a few small boxes of miscellaneous pieces laying around the house!
---
BRICKS
Tip #1 I highly recommend doing this on a clean rug or carpet. It can become very daunting to pick up those tiny pieces and bricks on a hard floor.
Tip #2 Start with one color at a time. When you're bored of that color, move on for a few minutes. This sounds funny but, you will likely become bored of picking up only blue little blocks for 45 minutes straight! I always start with red. It's easy to see and my eye immediately goes towards pulling those first. Then, I move on to yellow and orange, brown, blue and green, white and tan, and finally I separate the black from the gray. We always seem to have the most of black and gray so rather than taking the time to separate those from ALL of the other colors, I leave them for last and just separate them from each other.

Tip #3 Don't forget while color sorting, to pull out small pieces like weapons, minifigures, heads, arms, legs, hands, accessories, animals, etc. and toss them into their own pile or box.
Tip #4 Don't throw anything away. Unless you are 110% sure that a piece does not belong in your collection, keep it. I come across pieces all the time that I don't think belong to our bricks collection and my four year old is quick to tell me not to toss it. This includes hands, arms or legs broken off, and capes. They can all be reattached! Let's not forget that they're ridiculously pricey so, try not to vacuum those little suckers up either!
Tip #5 Try to reserve time for this task without the kids. It will save you time, frustration, and probably a brain meltdown.
---
MINIFIGURES
Tip #1 This is where you might want to pull a kid into the room, let them go ahead and reassemble minifigures. Unless it's clear as day, I don't try this myself without the brain of my LEGO expert. He knows which body goes with which legs, which head goes with certain bodies, etc. So, to let him get his hands into the task, I give him this job.
Tip #2Â The best advice I can give you is to hit up your local Dollar Tree. They often carry small plastic tackle box inserts near the car supplies and home repair stuff. We like those for traveling with our little men as well. For a larger minifigure collection, you may want to go the route we chose: large tackle box insert sets. Gander Mtn. has a great selection here.
Tip #3Â Make a place for everything. We separate guns from knives, walkie talkies from binoculars, spare legs from spare bodies, even down to a small area within the tackle box for just spare arms and hands. Believe me, this will come in handy when someone is on the hunt for a specific hand color, it does happen.
---
OTHER SMALL PARTS
Tip #1Â Back to the tackle boxes. These clear boxes come in handy so often when organizing your LEGO collection. When digging through your color coordinated bricks, it can still be daunting to find a specific small piece that is desperately needed for a vehicle rebuild. Sorting out small crystals, wheels, windows, doors, etc. will save you tons of time later on.
Tip #2Â When your boxes are sorted with small pieces, I recommend making these boxes, "OFF LIMITS." Because one tiny slip on the LEGO building area can lead to a disaster of 100's of tiny pieces, our boys are only allowed access to these boxes when we are present. I made the mistake of granting free access to all of the LEGO boxes at first…That will never happen again.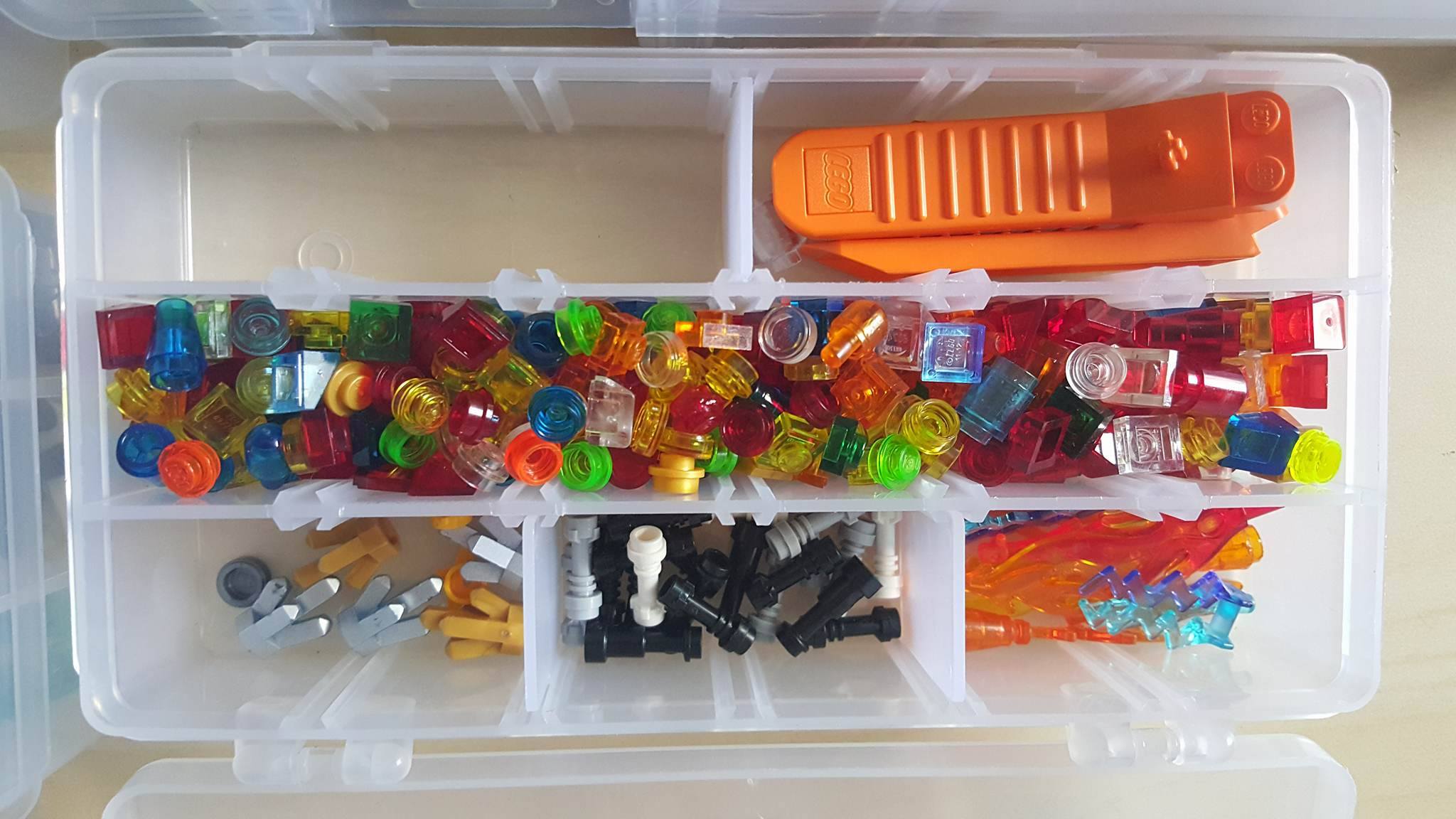 ---
FINAL PRODUCT
---