You know what they say, "Something they want. Something they need. Something to wear. Something to read." This year, I'm covering ALL the bases and then some with my 25 Days of Gifts, as your GUIDE to Christmas shopping this month!
I couldn't help but kick it off with some matching Christmas jammies and info on EVERY SINGLE THING you should know before having Breakfast with Santa at The Florida Mall and WHY you should do it!
There are so many great things about gifting matching Christmas PJ's to everyone in your family! As a mom, these are my favorite reasons to add them to your list this year:
Easily knock off the "Something they wear" on your list
No-one argues over who does and doesn't have jammies with such and such character
A perfect Christmas Eve present
Super cute for Christmas morning photos
Easy to roll-up and stuff into stockings
MANY choices and price differences
Shop some of my FAVS!
We were super excited to wear our matching fam jams to the Breakfast with Santa VIP Event with Orlando Moms Blog this morning! K was nothing short of rosey-cheeked when Mrs.Claus told him they were her FAVORITE of all the Christmas pajamas she'd ever seen!
Although, we're experienced in character dining over at WDW, we've never had a meal with our favorites from the North Pole so, we didn't know what to expect!
Now that we've checked this off our list, I want to share all of the things you SHOULD know before having breakfast with Santa and getting your Christmas photos done at The Florida Mall!
"Everyone on the nice list is invited to ride his or her sleigh to the mall for Breakfast with Santa on December 8 from 8 – 10 a.m. Join Santa, Mrs. Claus and your favorite little elves as they help bring out the festive cheer! Enjoy a Pancake Breakfast, Crafts, Letters to Santa, Activities, and Special Treat Bags. Attendees will have the opportunity to have photos with Santa after the breakfast for a *special rate.  Reserve your spot and join us for the most wonderful time of the year!"
Skip the Lines: Save your time and skip the lines mama! Reserve your photos with Santa NOW before you go!
Check the calendar for hours and times: Hours and Times
Arrival:Â To get the most out of your experience, arrive as close to 8AM as possible and park/enter at the Dining Pavilion! Arriving late will not mean you forfeit your time with Santa but, you may miss out on some of the fun things to do before the mall's actual opening (when the event ends)!
Mrs. Claus & The Elves: Have your phone out and ready upon arrival for photos with Mrs. Santa herself and a few of their special helpers!
Activities: Activities and crafts, including a Letters to Santa station, will be available during your breakfast time!
Tech:Â Not only will the Apple store have an awesome activity table set up but, one of our FAVORITE things about meeting Santa at The Florida Mall was the interactive stands INSIDE the line queue that were totally free and kept the boys occupied with tablet style games during our wait!
Food: Be prepared for regular, quick breakfast items like pancakes, cereals, bagels, and other small snacks along with juices, coffee, and water!
Story Time:Â Story time with Santa took our entire traditional Santa photo experience to an entirely new level! The boys were able to get right up under Santa's beard and listen to him read "The Night Before Christmas" in his jolly voice!
Photos before The Photo: Make sure to document your entire experience with photos in front of the twinkling cylinder that houses the Santa Set, selfies in front of the Christmas Tree, even photos out in front of the Dining Pavilion made for great keepsakes with their large ornament!
Meeting Santa:Â Get your littles prepared by showing them photos of Santa, asking them what they'd like most for Christmas, taking practice photos, etc. The photographer was fantastic about taking her time and tickling the boys to make sure she got a GREAT photo of our entire family! They were very patient with the boys, and even let Linc hang out a little longer with Santa because he wasn't quite ready to leave BUT, it never hurts to be prepared!
Photo Packages:Â Know the package pricing before you go!
Share! Share! Share!: During your experience, share your photos with @ShopFloridaMall and #ShopSimon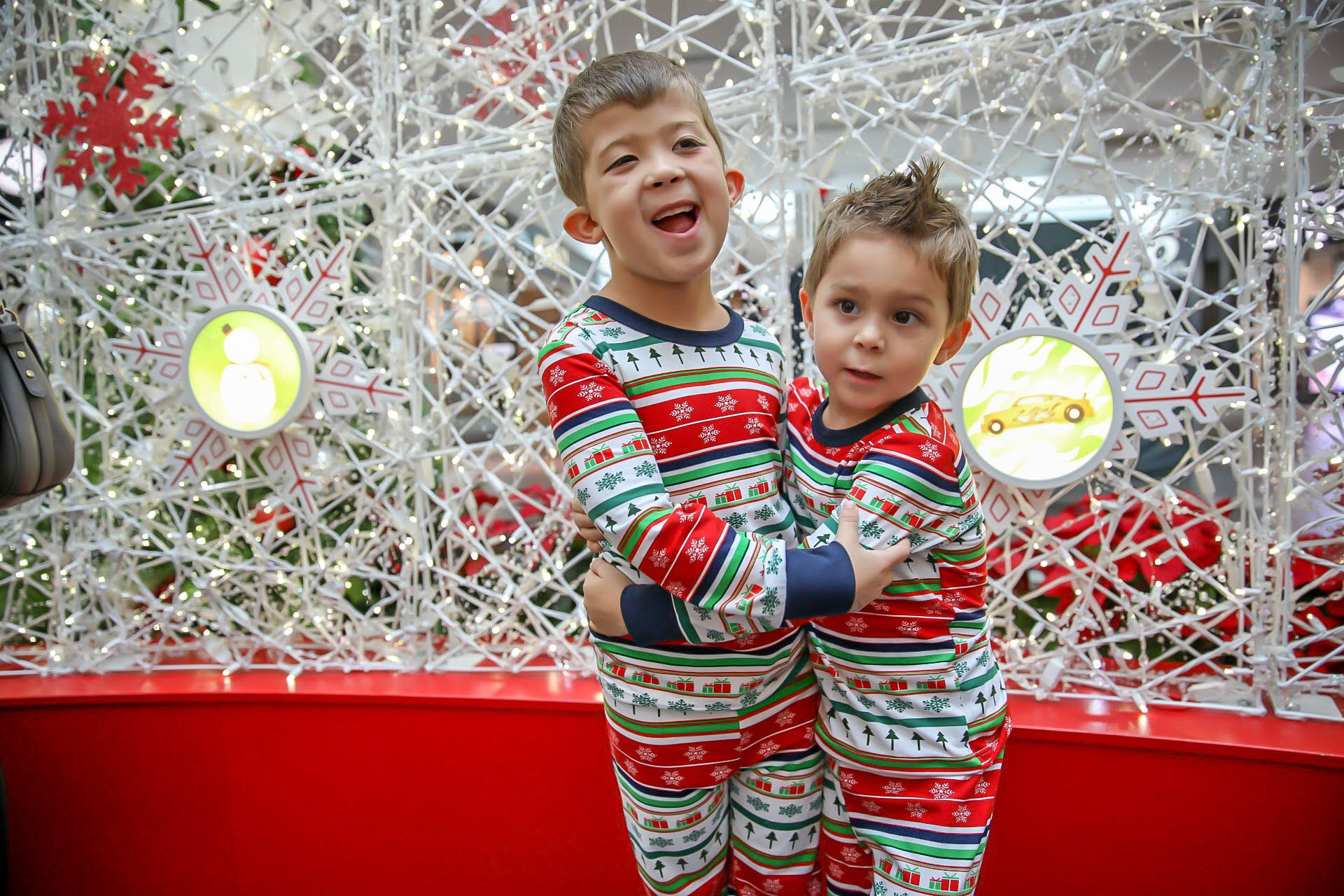 ---