This post is sponsored by Orlando International Premium Outlets.
---
Ready to update your Summer style stash for the family?!
Shopping at retail prices can quickly tap out your budget but, spending a day out at Orlando International Premium Outlets can get you double, if not TRIPLE your haul!!
  
Since K is our shopping babe, I took him for a day trip out to OIPO in hopes that we would be able to update all of our summer styles in one trip! We SCORED on tons of summer essentials like: swimwear for the entire family, shorts, tees and tanks, sandals and water shoes, and even packing MUST HAVES for our Summer trips! We even received extra discounts at some of our favorites JUST for being a local resident! WHAT WHATT!!
That's right! Local residents shopping at the center can enjoy extra perks this season! Locals within 30 miles of OIPO have exclusive access to the Local
Residents Shop and Save program! (Guys, I'm talking AMAZING discounts ON TOP of crazy good deals for the whole fam jam!)
What exactly does that mean for Orlando-area families like ours?!
Each Wednesday from June through December 2019, residents within 30 miles of OIPO
can access free valet parking, a complimentary gift, and additional savings on top of the already incredible discounts within the center! With this exclusive deal, you will also receive a Scratch & Save card (your chance to win a Simon Gift card® valued at $25 or $50)!
Now, I know what you're thinking: How do I get access to my special savings?! Visit the Simon Guest Services desk in the Food Court at OIPO and show your valid ID to the your perks and super special gifts of being a local resident!! *Limit one gift and special savings brochure per family. 
MORE SAVINGS: Even if you're not a local resident, you can still enjoy additional savings with the VIP Shopper Club membership passport! This free membership-based club offers shoppers from all over, access to exclusive discounts not available to the public! Sign up and grab your digital VIP Savings Passport!!
We made the first stop of our shopping trip the Simon Guest Services desk to receive our special gift and savings pass! Then, popped in to each of our OIPO favs to shop our hearts out! The center is full of amazing deals on trendy styles for summer from neons and animal prints to coral and neutrals! We're currently loving neons, of course and stocked up on bold tees from the Old Navy Outlet for under $7 a piece (LESS than half of the $14.99 retail price)! This Old Navy location at OIPO is the LARGEST Old Navy Outlet in the state and it definitely doesn't disappoint! From swim and shorts, to dresses and tees, we stocked up on all of our Summer essentials for 60% off of retail pricing PLUS an additional 15% off with the Local Resident discount passport!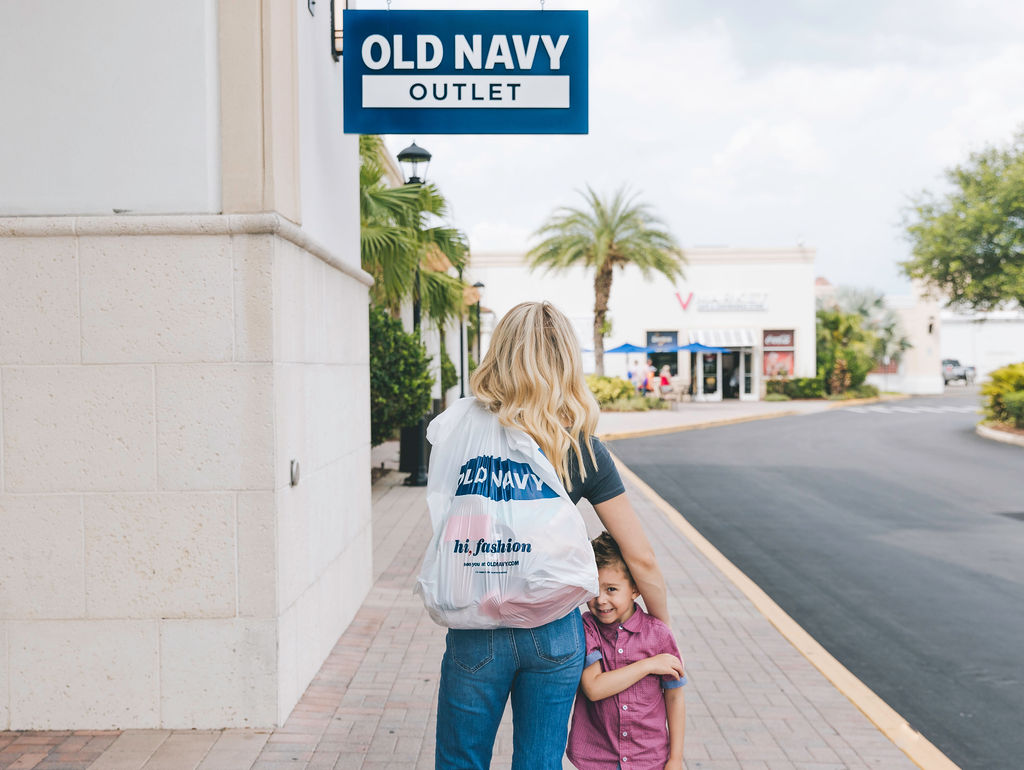 You guys know how much we love Disney so, taking advantage of the deals at the Disney Character Warehouse was a no-brainer! If you're planning a Disney trip soon or just need to get your Disney fix, pick up light wands for $4.99 (regular $27.99 in the parks!!!), costumes and tees for less than 50% off park prices, autograph books and pens ($1.99 here or $7.99 on WDW property), and plush for $7.99 or less (park prices: $14.99+)!
I love to add subtle pieces to my Disney outfits for park days so, the fact that I've had my eye on a few Disney designer handbags and hats at full price that were 60% less at the Disney Character Warehouse was JAW-DROPPING! Seriously, the discounted price of these Danielle Nicole Disney designer handbags (Rapunzel and Ariel with Prince Eric) almost had me jumping over the counter to hug the cashier!!
Ariel and Prince Eric Daniell Nicole Crossbody Handbag, $37.99 (Retail $79+)
Rapunzel Daniell Nicole Die-Cut Crossbody Handbag, $42.99 (Retail $79+)
Since the boys live in Crocs, we made sure to take advantage of the Buy 1 Get 1 40% OFF and Buy 2 Get 1 FREE deal AND made an additional purchase to use our Local Resident Savings Pass! With colors from all over the rainbow and seasonal prints, this Crocs location is THE place for stocking up on those water shoes this season!
Because of the Local Resident savings passport, taking advantage of the already low deals at Carter's with an additional discount, was a MUST! The ENTIRE store was 60% off OR MORE and with our additional 20% OFF exclusive savings, we stocked up on tees and shorts for the boys for less than $5 EACH (normally $12.99-$14.99 retail, per pair)!
With Father's Day coming, we couldn't forget Dad! Nautica is always our go-to spot for polos and shorts for our favorite guy! With prices like $12.99 (Retail price $24.99+) for some of his must-haves, gifting some of his must-haves is easy peasy!
Once I had the boys and Dad marked off my list, it was time for ME! Yes, mamas-you can ACTUALLY shop for yourself now that you're shopping at OIPO! The prices make it easy for us to splurge on ourselves!
If you're like me, spoiling myself with the finer things like designer handbags and shoes anywhere but the clearance rack, is a no-no. It JUST DOESN'T HAPPEN. After picking out the very best for the rest of the family, I'm usually left with just enough for only a tall at Starbucks but, at OIPO I can pamper myself with purchases I normally wouldn't be able to make!
The Kate Spade outlet store is the PERFECT spot to upgrade that diaper bag from drab, to designer backpack (or tote) for a fraction of the retail cost! Shop for deals on designer items at less than 60% off retail ($129 for a $299 handbag) to give your well-deserved self a whole new pep in your step and update on your Summer style!
After grabbing a snack to share and hydrating at Wetzel's Pretzel's, we wrapped up our day visiting the future location of one of the largest H&M Factory stores opening at OIPO this Summer! With styles for the entire family, this will be a frequent one-stop-shop for us after it's opening!!
Get your Pre-Summer shopping on at OIPO and visit some of our other favs with HUGE discounts-
Converse, Calvin Klein, Victoria's Secret, Ted Baker London, and NEW Bath and Body Works!!
---