The Back to School Season is RIGHT around the corner which means tax-free shopping and TONS of discounts are in your very near future! Last week, I spent 6 hours (yes SIX) at the Orlando International Premium Outlets doing some pre-back to school shopping and researching the BEST deals for stocking up on everything you need for your littles' new school wardrobe!
There are a few things you should know before hitting the sales!
Tax-Free dates:Â Â From 12:01 pm on Aug. 2 to 11:59 pm on August 6 you'll save 6% sales tax on TONS of items!
What's included in the Tax-Free holiday?
Clothing, footwear, and select accessories selling for $60 or less per item
School supplies that are marked less than $15 per item
Computers and select accessories selling for $1,000 or less per item when purchased for personal use
Exclusive Sales & Discounts at Orlando International Premium Outlets:
Super Sidewalk Sale: OIPO is having a Sidewalk Super Sale that extends from Friday, August 2 through Tuesday, August 6 at select retailers!
The Local Residents Program: Orlando-area residents are invited to receive additional savings with the Local Residents Shop and Save program. Each Wednesday from June through December 2019, residents who visit Simon Guest Services located in the Management Office and Food Court can access free valet parking, a complimentary gift, and additional savings booklet on top of everyday
discounts. Local residents will also receive a special Scratch & Save card with a chance to win a Simon Giftcard® valued at $25 or $100.
The VIP Shopper Club: This membership-based club is 110% TOTALLY FREE. Members have access to additional, exclusive online offers that can often be stacked on top of the already low prices at the center! Join the VIP Shopper Club by visiting premiumoutlets.com/vip
Gift With Purchase Offer: You're heading to the outlets with a plan on spending anyway! So, why not purchase a $150 American Express Simon Gift Card and receive a complimentary $25 retailer gift card of your choice – H&M, Calvin Klein, GAP Outlet, Vans Outlet, or Converse. GUYS! THIS IS FREE MONEY! You can use the American Express Simon Gift Card at any retailer on property so, it's a win if you're already planning on spending $150 (or more!)! (*Offer valid June 15-
July 31, visit Simon Guest Services located in the Management Office and Food Court to receive your free gift!)
What's New Now: Text NOW256 to 74666 to get up-to-date texts on the latest deals right at your fingertips!
I am urging you to take full advantage of EVERY.SINGLE.ONE of those exclusive discounts and sales listed above! The savings passes and Local Resident perks are unbeatable when stacked or paired with the already SUPER low prices at the center!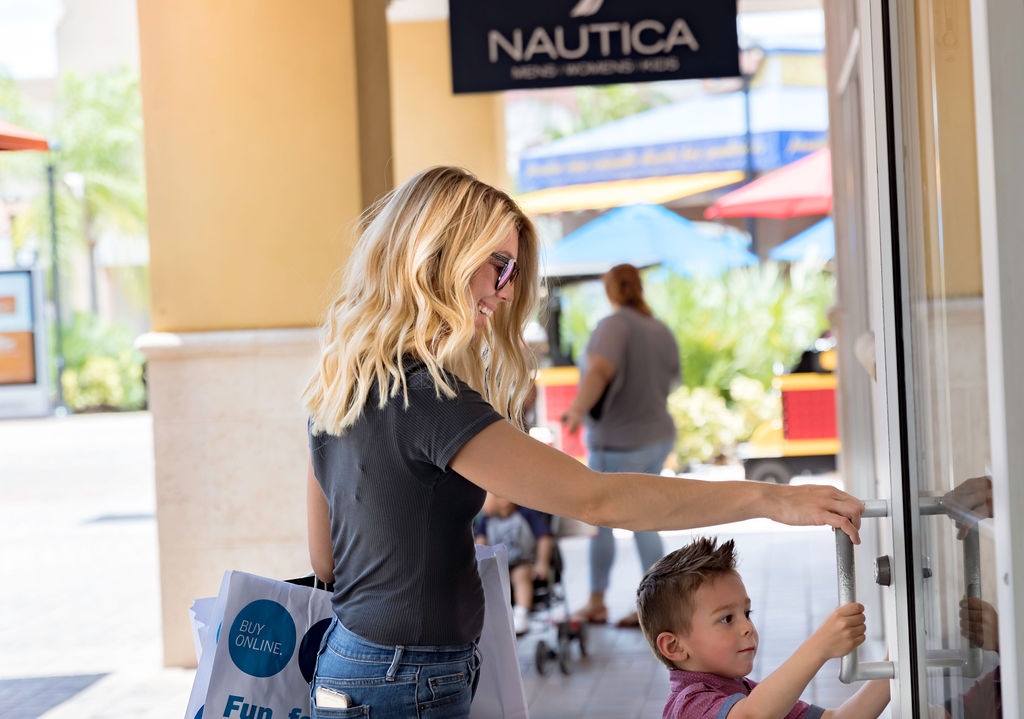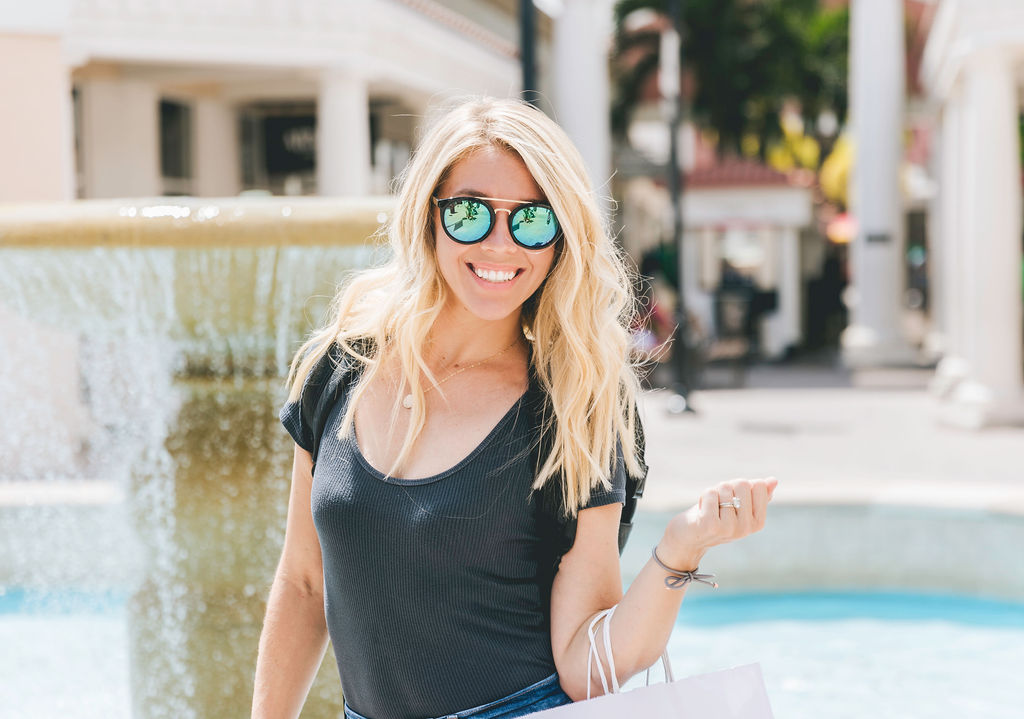 Back to School Outlet locations you don't want to miss!!
Calvin Klein
Crocs (Check out the new LiteRide Pacer collection and BOGO 50% off!)
Nautica Factory Store
Old Navy Outlet (This HUGE outlet location is great for stocking up on tees and socks! Also, stop by the OIPO Management office next door to get your FREE pretzel coupon and receive your free $25 gift card with the purchase of the $150 American Express Gift Card!)
Carter's (All things Pre-k and young school aged kids! Stock up all everything you need in one spot! Also, make sure to use the savings pass in your VIP shopper or Local Residents passport)
GAP Outlet (High quality tees and pants make this the perfect savings location for things your kids will wear all year long!)
Victoria's Secret
Converse (DO NOT MISS taking advantage of the BOGO 50% off the entire store! This is always a must stop for us when we're at the center!)
H&M NEW!! This is the LARGEST outlet location that H&M has in Florida, with styles for the entire family! Check out the H&M Kids collection from newborns up to 14 years! Take advantage of the Buy 2 Get 1 FREE deal for kids on tees and shorts!
Wetzel's Pretzels (FREE snack coupon during your Back to School shopping buy visiting the OIPO Management Office!)
Bath & Body Works (Stock up on bath favs during your Back to School shopping or just pop in to refresh from the heat!)
Official Back to School Holiday Sales!
**Sales, Discounts, and Exclusive Savings Memberships subject to change without notice.
Aeropostale – 
20% off in-store purchase
Additional savings in Destination Passport and Vip Shopper's Club
Billabong/Quicksilver – 
Billabong – Entire store is bogo free on apparel, with select markdowns up to 75% off.
Quicksilver – Entire store 50% off on apparel, with select markdowns up to 60% off.

Additional savings in Destination Passport
Carter's – 
50% off Entire Site (no exclusions)/ Up to 50% off Entire Store
(8/2-8/5) Shop Tax Free
50% off Back To School Favs (8/6 -8/22)
Additional savings in Destination Passport and Vip Shopper's Club
Columbia –
Converse -Â 
BOGO 50% Off Entire Store (including sale items)
Crocs – 
Croc's NEW LiteRide Kids release!
Buy Two Get One Free OR BOGO 50% Off almost the entire store!
Additional savings in Destination Passport and Vip Shopper's Club
J. Crew – 
(8/8-8/11)– Students and Teachers receive extra 20% off their purchase with their IDs. (*Cannot be combined with other offers. Some exclusions apply.)
8/3-8/4 – Florida Tax Free Early Open – Shop in store from 8AM-9AM and receive extra 20% off your purchase. (*Cannot be combined with other offers. Some exclusions apply.)
Shop and Share Program – J. Crew partners with local schools to host an event for them. In partnership with the school, all they need to do is advertise to get teachers, parents, students, etc. to come shop during the event. They will receive 20% off $100 spend. In return, depending on how much money the event generates, J. Crew donates up to 10% of sales back to the school.
Additional savings in Destination Passport and Vip Shopper's Club
Skip Hop -Â 
BOGO 50% Off the Entire Store
Vans Outlet -Â 
3 for $30 on a selection of Men's T-shirts
BOGO 50% off all apparel (except the 3 for $30 t-shirts), can be mix'n'matched between Men's, Women's, and Kid's
BOGO 50% off all accessories, ranging from Backpacks, Hats, Lanyards, Belts, Wallets, Socks, etc.
Buy any shoe, get a SALE shoe 50% off. Meaning if they purchase any shoe, they can get 50% off the purchase of a sale shoe marked in-store with orange stickers.
Starting August 11th, Vans is distributing coupons for $25 off $65 or more for every $65 dollars spent before tax. (Redemption period: 8/16-9/2)
Wetzel's Pretzels -Â 
Stop in at the OIPO Management Office to pick up a coupon for a FREE Pretzel (Don't forget that $25 gift card while you're there with the purchase of a $150 American Express Simon Gift Card!)
Wilson's Leather - 
Designer Clearance! Up to 80% off Entire Store.
Faux Leather Jackets starting at $49.99.
Leather Jackets 70% off comparable value.
Plus, select men's and women's accessories Buy One, Get One 50% off.
Additional savings in Destination Passport and Vip Shopper's Club
---