The only way we know to swing into Spring is none other than EPCOT's International Flower and Garden Festival at Walt Disney World! The sun is shining, the weather is just warm enough without being too chilly in the evenings, and the park is adorned with beautiful blooms, stunning topiaries shaped as your favorite classic characters, and exotic gardens. This year's event is not only offering the things we've loved at years' past events but, also all new and exciting entertainment and experiences. Gorgeous, meticulously sculpted gardens and arrangements brighten the landscape with aromas of floral eats and drinks filling the air. As Disney pro's, I'm here to tell you EVERYTHING you need to know about the Flower and Garden Festival at Walt Disney World and all of the MUST-DO's if you're visiting the park this Spring!
A huge thank you to Walt Disney World and Disney Parks for inviting us to enjoy the magical events at EPCOT's 2022 Flower and Garden Festival!
As you stroll through the park this Spring, you'll be surrounded by over 70,000 bedding plants and florals with more than 200 floating pots, 20+ sculpted topiaries, multiple interactive play areas, and 18 Outdoor Kitchens! If you're looking for the perfect time for photos at Walt Disney World, this is it! You'll be encompassed by gorgeous backdrops everywhere you turn.
The Flower and Garden Festival is one of many annual festivals which EPCOT hosts for their guests. The event features favorites like Bambi's Butterfly House, nighttime illuminated play gardens, English Tea Garden, and specialty foods, with curated activities for kids.
Things to Know Before Your Visit to the Flower and Garden Festival  2022:
When is it? 

March 2 – July 4, 2022

What is it exactly? The Flower and Garden Festival is a collection of spring-inspired food and beverage offerings at various international outdoor kitchens, and activities & experiences for kids and adults focused on highlighting the beauty of all things floral throughout the park. You'll mostly see these offerings in the World Showcase but, there are many experiences found in various other areas in EPCOT.
Is it included in my park ticket? Yes! Well, for the most part! But, there are certain extras along with food and beverage that are an additional charge. Definitely budget for those, they're totally worth it!
What is the cost? (Besides your park ticket) There is no single set price for this event. Attending it once you're in the park is totally free but, the cost of experiences and food items do vary.

Spike's Pollen-Nation Exploration: Stop by World Traveler at International Gateway, Port of Entry or Creations to grab the scavenger hunt map for $9.99 + tax (annual passholder discounts available)
Garden Graze Food Stroll: Budget for about $30 per person
Food Items from Outdoor Kitchens: $4-12 for food and drink items

How much should I budget? With the scavenger hunt and Garden Graze food stroll, I would budget $50 per person in your party, generously. However, our family of 6 could easily share two scavenger hunts, one or two snacks at each food stroll stop, and overall only a few of the meals from Outdoor Kitchens. This would put us right at $100-150 total for all of us together!
Do I need a park reservation? Yes! This event is held within the golden Disney gates of EPCOT so, you do need a park ticket as well as a park reservation to attend.
What time does it start? ALL DAY! While there are events and viewings held at specific times throughout the day, you will be able to do things like the Garden Graze Food Stroll, Play Gardens, and Spike's Pollen-Nation Exploration all day long!
What should I bring? Definitely check the weather and bring a poncho for possible afternoon showers. Otherwise, make sure to bring your ID, your Magic Band or phone with your My Disney Experience app, and an empty belly for snacking! Do not forget to pick up your free festival passport on the way in!
What's a FREE Festival Passport? THIS IS A MUST HAVE! Just like a park map, or even moreso, you'll need a free Festival Passport for all of the fun extras, which can be picked up at one of the large display kiosks as you enter the park or in most merchandise locations, Outdoor Kitchens, and Guest Relations. Did I mention that it's free?! If you're ready for snacking and want to take on the Garden Graze stroll, you'll use your passport for Cast Members to stamp off each of your stroll stops in order to earn your prize! (It also makes for a great keepsake.)
Do I need any other reservations? The short answer: possibly! If you're planning on seeing one of the many performers at the Garden Rocks concert and want good seats, go ahead and grab a special dining package for that!
Can I use my annual passholder discount on anything at the festival? Depending on what you're purchasing, yes! The outdoor kitchen items are excluded from annual pass discounts but, if you're shopping for one-of-a-kind festival merchandise, you can use your annual pass for up to 20% discount on merchandise!
Is it fun for/with kids? Yes! This festival is especially great for kids! If you have kids in tow, even the littlest of babes, they'll have a wonderful time! There are multiple play gardens (some even glow and illuminate at night), lots of kid-friendly snacks, and of course Spike's Scavenger Hunt!
What You Should Expect from the 2022 Flower and Garden Festival:
Strategically scattered throughout the World Showcase, you'll find 18 Outdoor Kitchens along with a few extra favorites, serving delectable fare curated for each country, specialty in-season food and drinks, lush play gardens, lively musical performances, and of course, hidden Spike statues! Take a peek below to get the details on each experience at the 2022 Flower and Garden Festival at EPCOT!
MUST HAVE: FREE Festival Passport
Pick up your free festival passport as soon as you enter the park. You can see them located in displays at the entrances just s you would a park map, as well as outdoor kitchens and festival markets throughout the World Showcase! You do not want to wait on this. The festival passport is your key to the kingdom…well, festival! It has every menu item listed and where to find it, the Garden Graze food stroll stamp page, character topiaries, and interactive play areas. You HAVE to have this to succeed but most importantly, you won't be able to participate in the festival favorite: the Garden Graze.
Once you have your festival passport, hop into a shop in the park and ask where to grab your mini gift card bracelet. You'll preload It with an amount that you specify (up to $1000 & refillable). Rather than pulling out cash, your card, or using a magic band (only available for resort guests), you'll be able to keep this handy payment method on your wrist! You can use it pretty much everywhere on Walt Disney World property, it never expires, and it's just super cute!
Outdoor Kitchen Food Booths
You'll recognize the 18 Outdoor Kitchens as food booths lining the streets of the World Showcase with menu boards displaying fresh food items at the start of the line in each country. Each menu includes curated bites and drinks focused on in-season fruits, florals, and veggies.
The coolest thing about the Outdoor Kitchens? They're literally OUTSIDE! You can watch your food being prepped and made right infront of you! The boys love this aspect of the festival and it makes standing in line all the more worth it when we bite into our delicious festival snacks!








All 18 Outdoor Kitchens from this year's Flower and Garden Festival, in order, from the front of the World Showcase, going towards Mexico:
EPCOT Farmers Feast (Test Track)
EPCOT Sunshine Griddle (Test Track) GARDEN GRAZE STOP
The Honey Bee-stro (Port of Entry)
Pineapple Promenade (Port of Entry)
Trowel & Trellis (Disney Traders) GARDEN GRAZE STOP
Jardin de Fiestas (Mexico)
Lotus House (China)
Refreshment Outpost
Bauernmarkt: Farmer's Market (Germany)GARDEN GRAZE STOP
Primavera Kitchen (Italy)
Magnolia Terrace (America)
Funnel Cake
Hanami (Japan)
Tangierine Café: Flavors of the Medina (Morocco)
La Isla Fresca (Between Morocco & France) GARDEN GRAZE STOP
Fleur de Lys (France)
Cider House (Located Near the United Kingdom)
Northern Bloom (Canada)
The Citrus Blossom (Port of Entry)
Refreshment Port
Flavor Full Kitchen (Between Imagination! & Refreshment Port) GARDEN GRAZE STOP
Pineapple Promenade *This is where you pick up your prize collection from the Garden Graze Food Stroll!
Flower and Garden Festival Floral Installments
One thing you can absolutely look forward to are the gorgeous and immaculately sculpted floral installments throughout the park. Not only will you be able to see some of your favorite characters shaped from florals and greenery but, you'll also see a brand new addition- a cake topiary with Goofy themed for the Walt Disney World 50th Anniversary. We always have to take a moment to give it up to the incredibly skilled Disney horticulturists who take so much time to pay attention to all of the details which make these sculptures so stunning.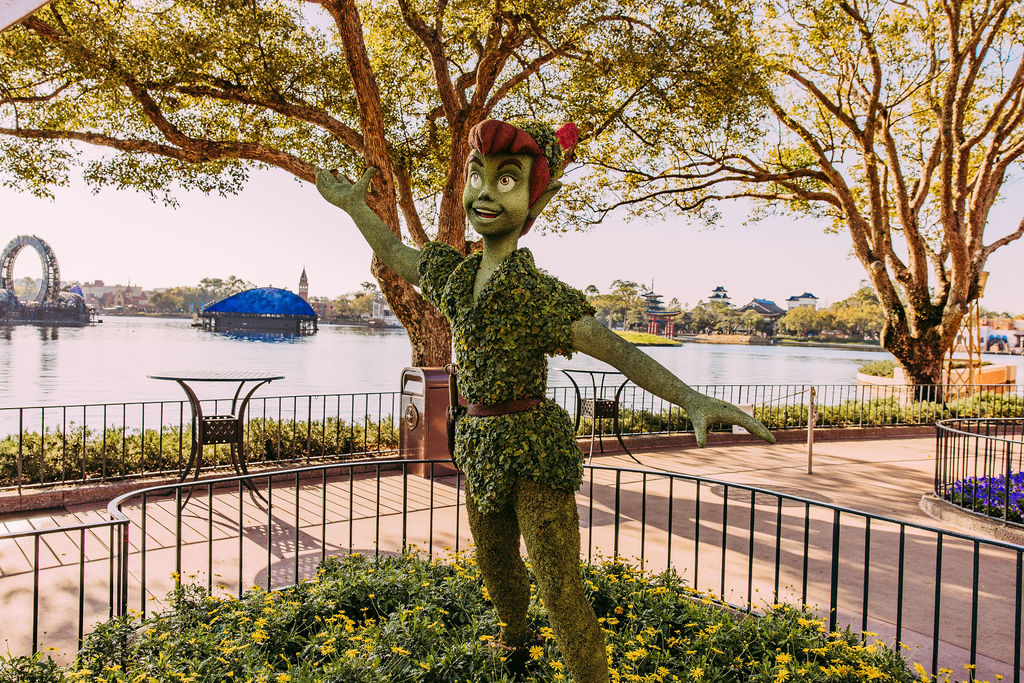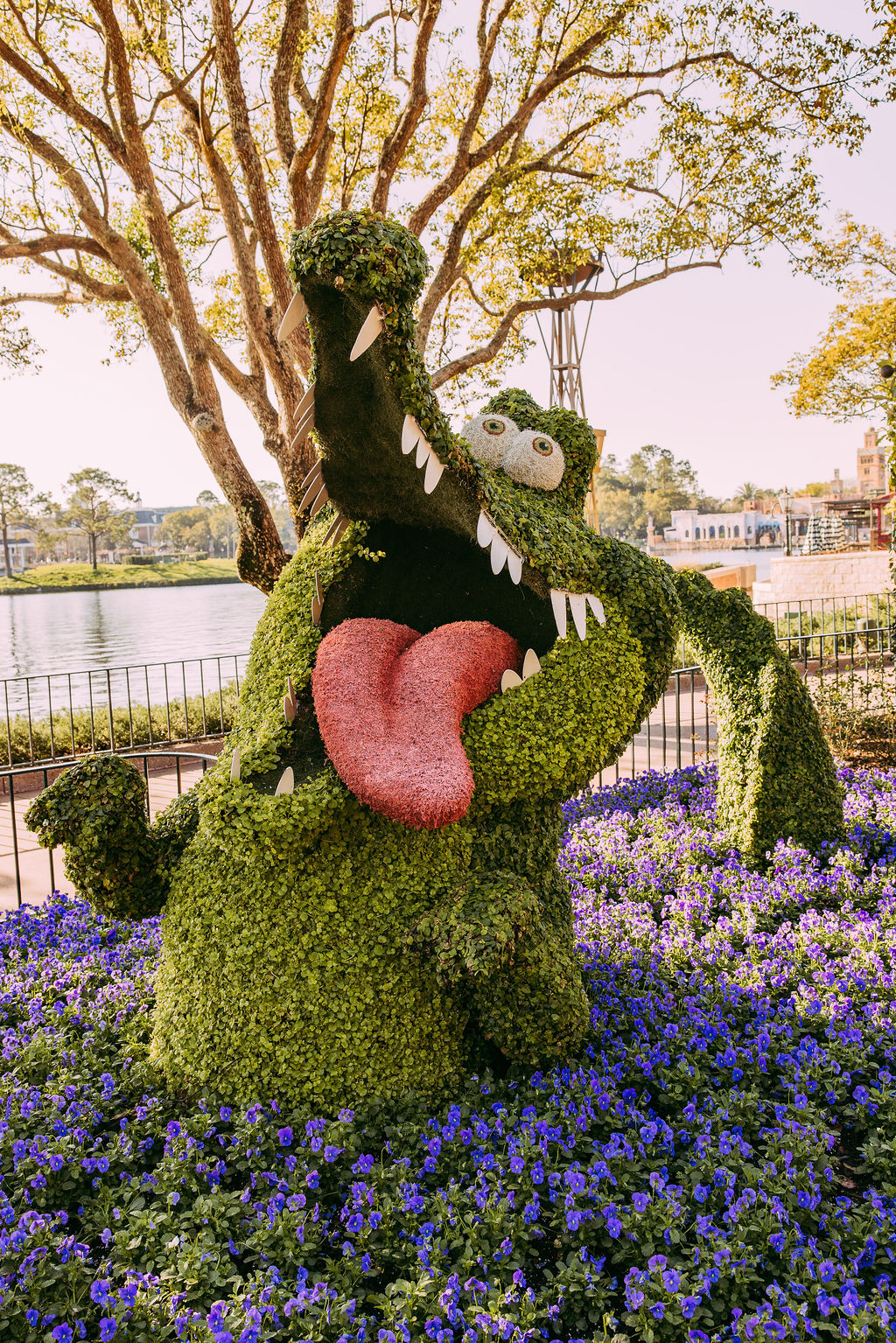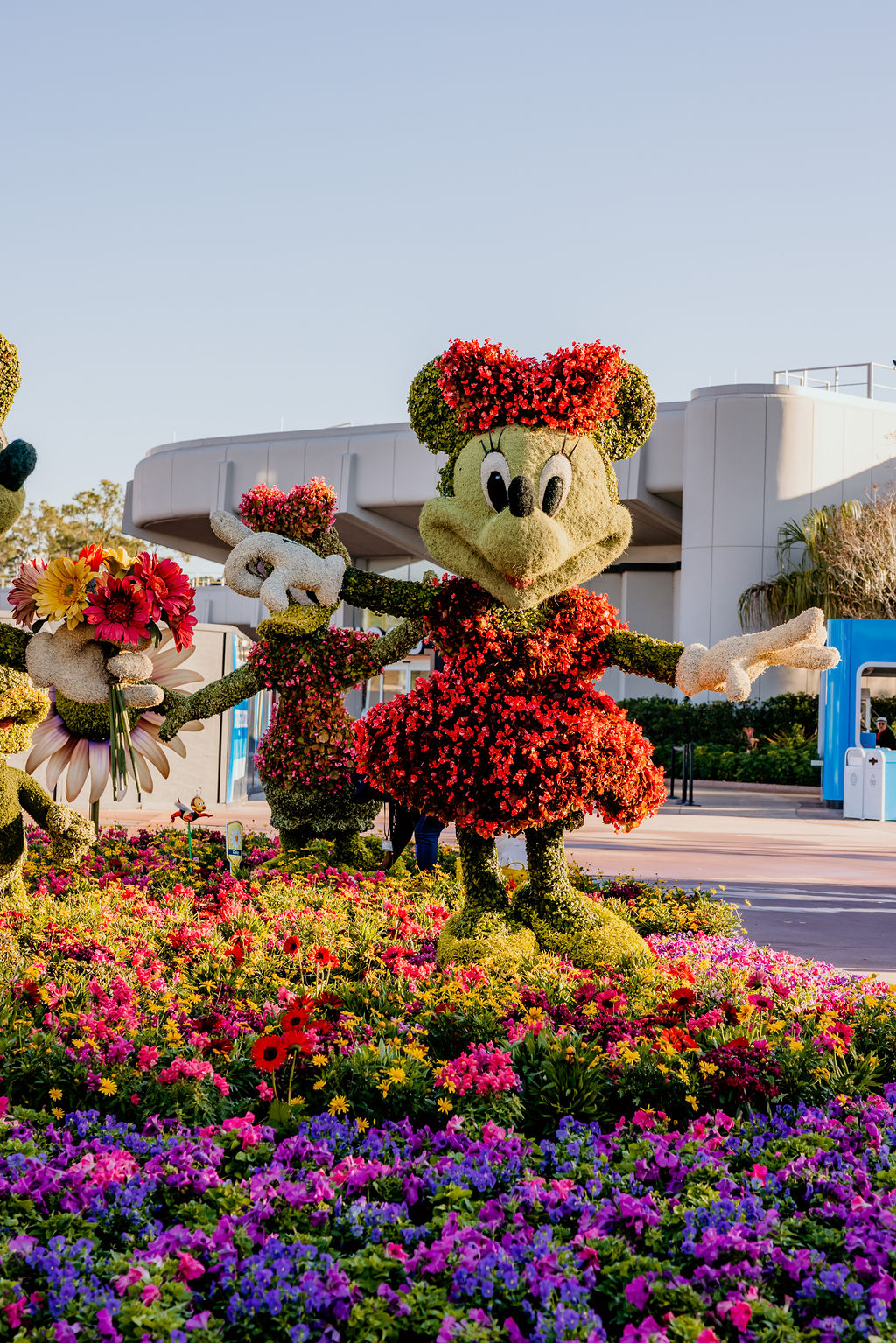 Make sure to pop over to the Health Full Trail presented by AdventHealth on the Imagination walkway for more festival merchandise!
FUll List of this year's Floral Installments:
Goofy with 50th Anniversary Celebration Cake Main Entrance
Sorcerer Mickey, Brooms, Hippo, Gator, & Ostriches Entrance to World Showcase
Mickey Mouse, Minnie Mouse, Donald Duck, Daisy Duck, Huey, Dewey & Louie Bridge to World Showcase
Pluto & Chip 'n' Dale The American Adventure Pavilion
Buzz Lightyear  Mission: SPACE
Figment Imagination!
The Three Caballeros Mexico Pavilion
Troll Norway Pavilion
Anna & Elsa Norway Pavilion
Dragon Japan Pavilion near Torii Gate
Pandas China Pavilion
Simba & Friends Between Imagination! & The Land
Timon & Pumbaa Between Imagination! & The Land
Snow White & the Seven Dwarfs Germany Pavilion
Kermit the Frog & Miss Piggy Germany Pavilion
Lady & the Tramp Italy Pavilion
Beauty & the Beast France Pavilion
Cogsworth & Lumiere France Pavilion
Peter Pan, Captain Hook, & Tick Tock the Croc Between United Kingdom & Canada
Tinker Bell's Fairy House Garden United Kingdom Pavilion
Winnie the Pooh & Friends United Kingdom Pavilion
Bambi & Friends Imagination!
Woody, Bo Peep, & Sheep  The Land Pavilion
English Tea Garden & Free Samples
 I really really love me some tea. So, when I found out that the English Tea Garden self-guided tour also comes with a free mini teacup with a sample of the day's tea, I was ready to hang out with my pinky out for THE DAY! Stop by Twinnings Tea Shop in the UK for your free mini teacup sample before you stroll through the English Tea Garden. Keep your eyes out for Mary Poppins or Alice, this is where they like to hang!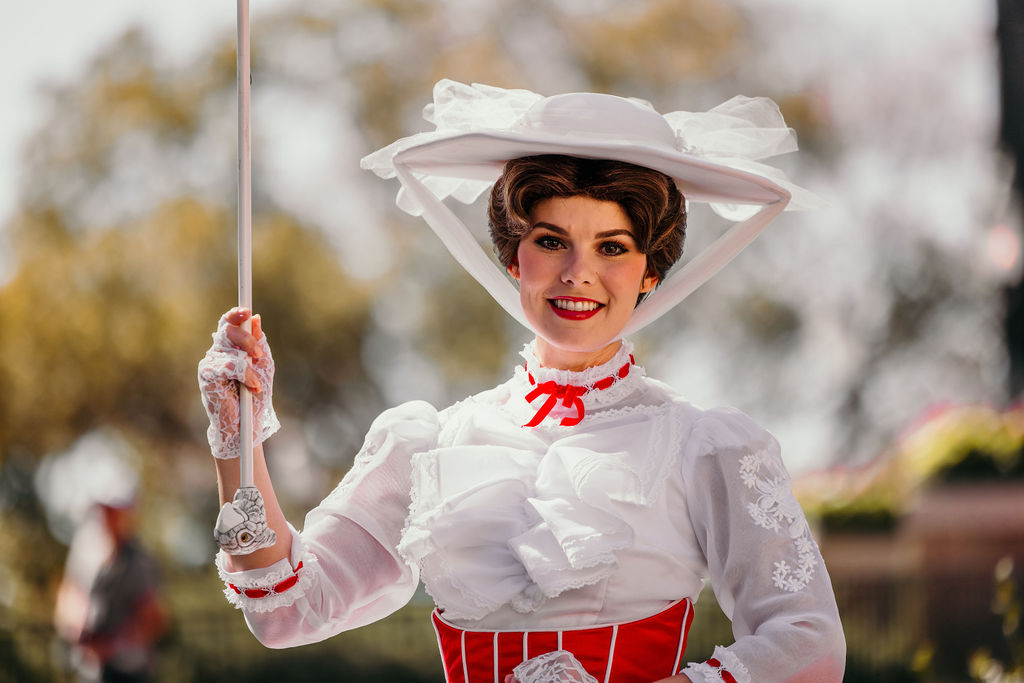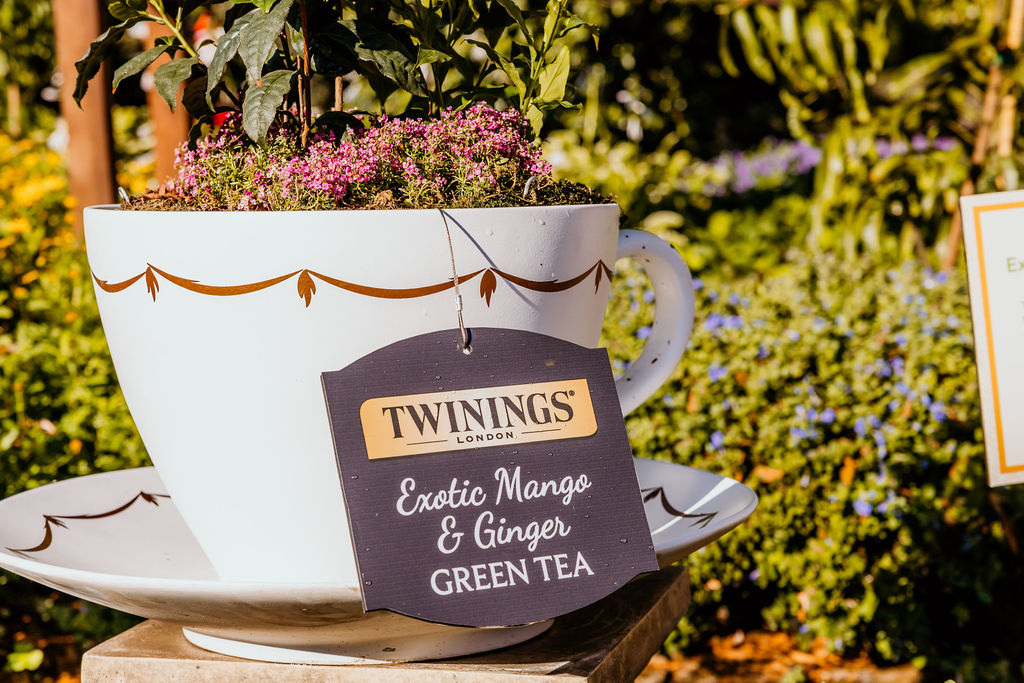 Fragrant Garden presented by Scentsy
 Once thing I thoroughly enjoyed and was super excited to experience is the new fragrant garden presented by Scentsy! I love all of the scents and aromas of Walt Disney World so this was a highlight for me! The Fragrant Garden features exquisite butterfly topiaries and encourages guests to follow their noses to 6 scent stations (floral, fruity, citrus, spice, woods, & fresh). This spot in the park guides guests through an all new, sensor- immersive experience that will be remembered for years to come!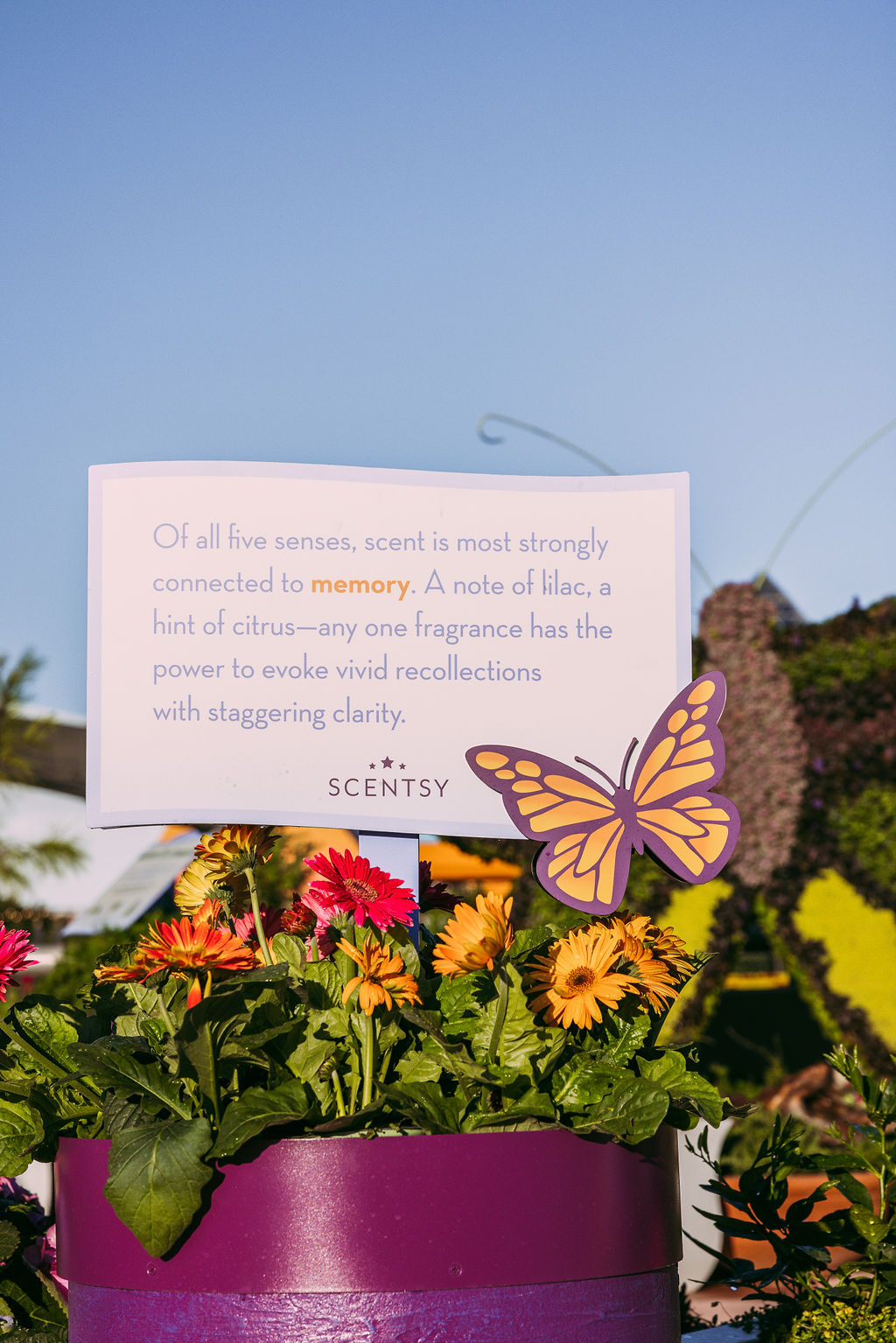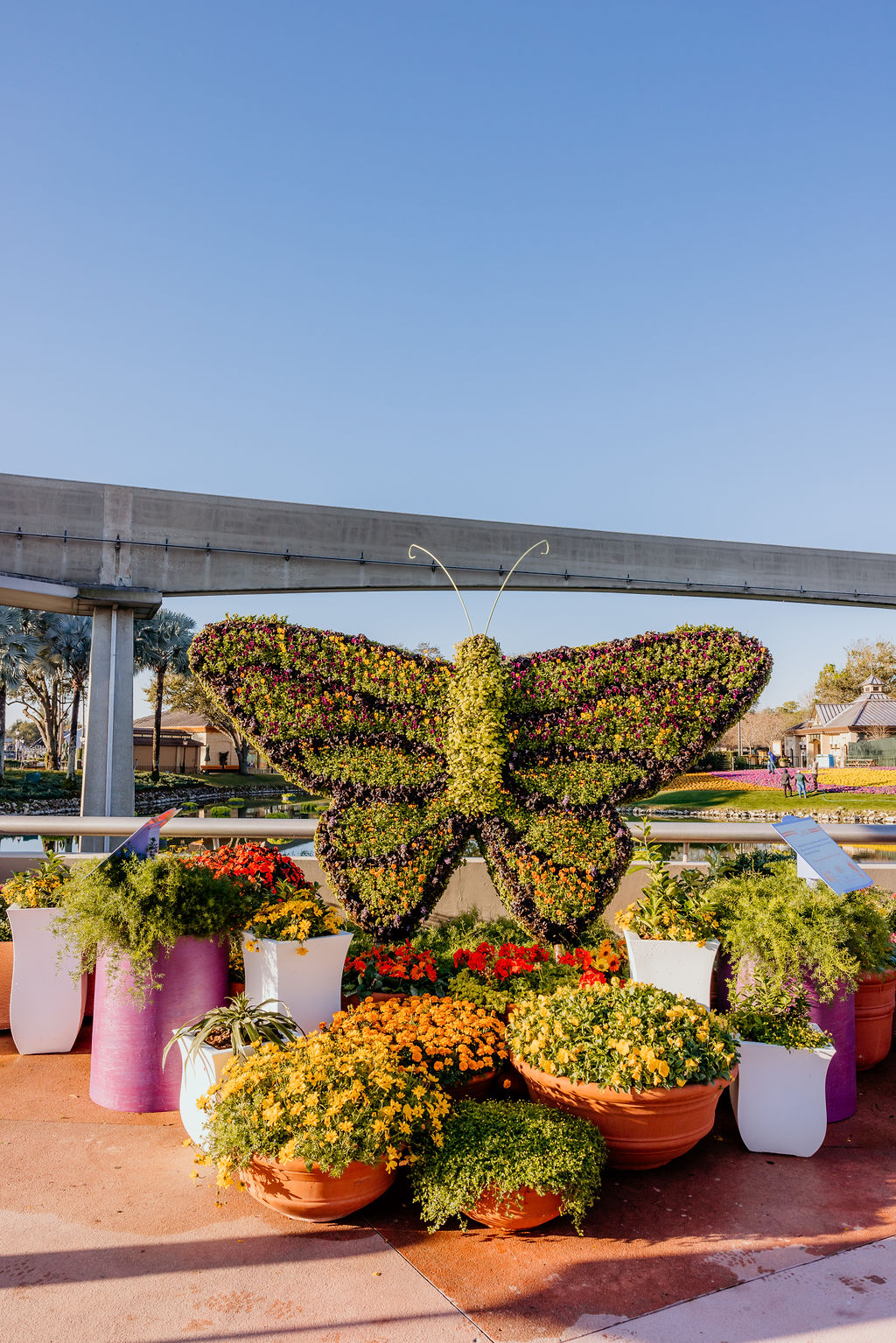 Garden Graze Food Stroll
One thing you can't miss when you're visiting EPCOT for the Flower and Garden Festival this year, is the Garden Graze Food Stroll! Use your free Festival Passport to find 5 festival-specificplant-based snacks throughout the World Showcase. Garden Graze bites are each an additional, separate purchase at each of the locations with a prize once you complete your Garden Graze Stroll by having all 5 spots of your festival passport stamped. You'll need your free Festival Passport for this one! A Cast Member will stamp the passport with each Garden Graze purchase in order for you to redeem your prize! (You don't need to complete the Garden Graze Stroll all in one single day but you DO need to keep your partly completed passport until it's complete, in order to get your prize!) To make things more convenient so you can spend more time ordering festival favorites and less time fumbling for your credit card or cash, pick up one of the adorable mini gift cards that are created specifically for the Flower and Garden Festival. They're attached to a stretchy bracelet so you can keep it handy for quick ordering!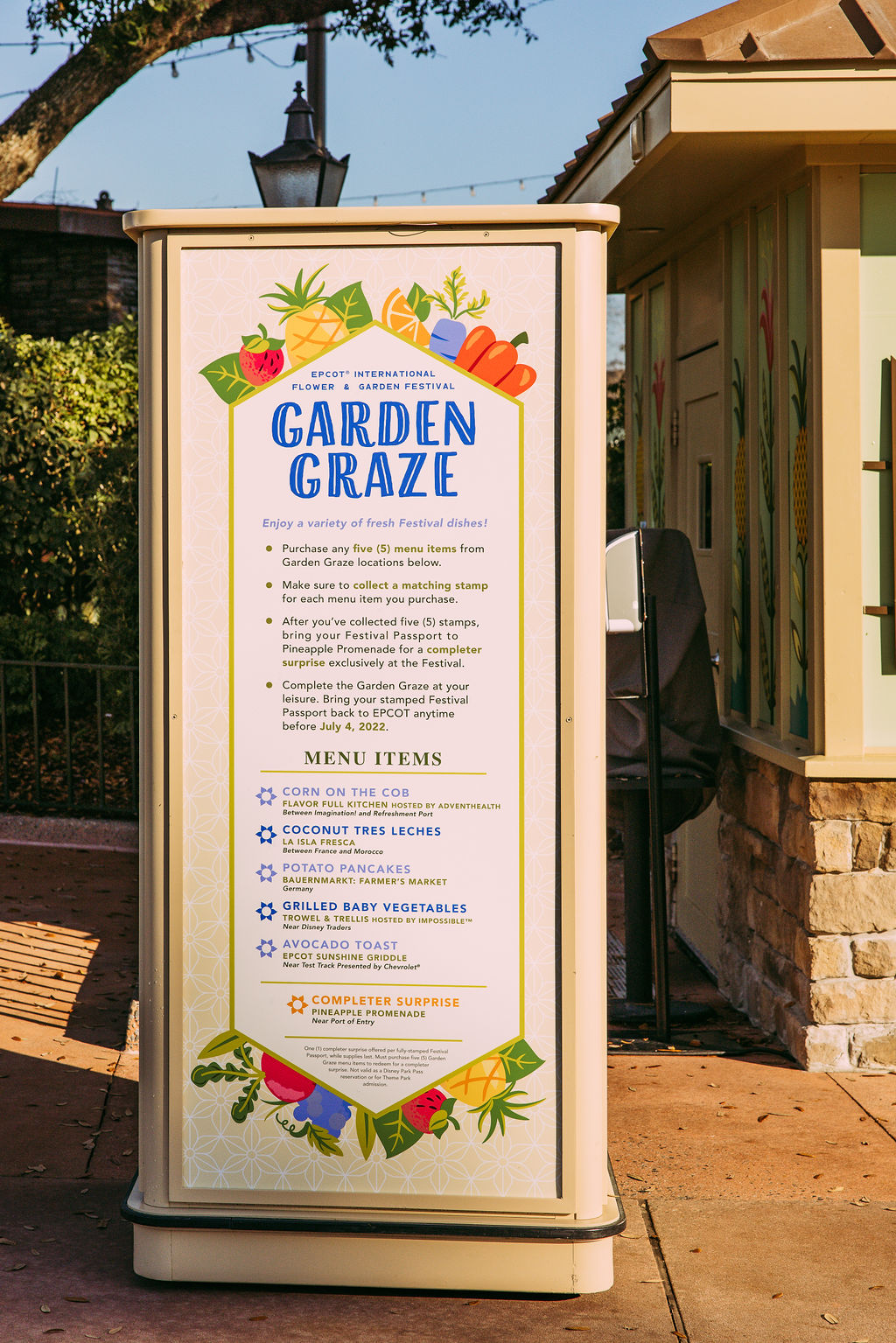 Garden Graze locations:
EPCOT Sunshine Griddle – Avocado Toast with Marinated Toy Box Tomatoes on Toasted Ciabatta
Trowel & Trellis – Grilled Baby Veggies with Hummus Cream and Red Pepper Coulis
Bauernmarkt: Farmer's Market – Potato Pancakes with House-Made Apple Sauce
La Isla Fresca – Coconut Tres Leches (Vanilla Cake soaked in Oat Milk, Almond Milk & Coconut Milk with Toasted Coconut)
Flavor Full Kitchen – Grilled Street Corn on the Cob with Savory Garlic Spread
Need to know before you go: garden graze stroll
When can you participate in the Garden Graze? March 2-July 2, 2022
What is the prize and where do I get mine? Your prize is a Mango Dole Whip in a Souvenir cup. Pick it up at the Pineapple Promenade Outdoor Kitchen
How much are the offerings?
Where is the Garden Graze information located in the Festival Passport? Flip to the back page of the Festival Passport to find all of the food items as well as your blank stamp page, which you'll present at each location as your purchase!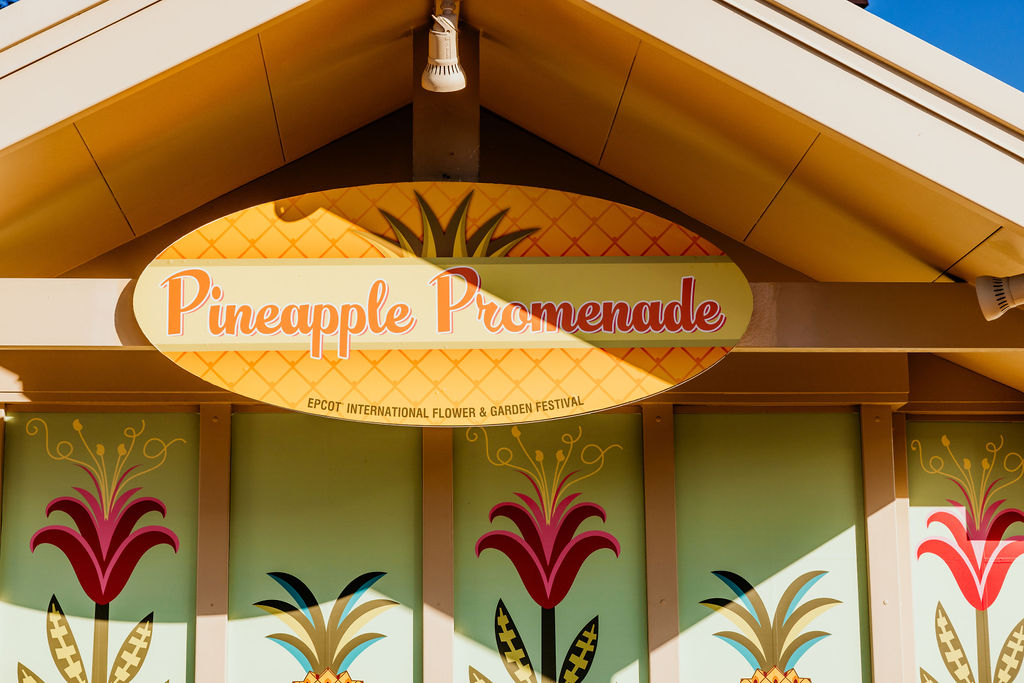 PINEAPPLE PROMENADE IS WHERE YOU PICK UP YOUR FREE PRIZE!
Spike's Pollen-Nation Exploration
This uniquely crafted activity for each festival is a family favorite for us. If you're looking for a full day of fun in EPCOT and want to take your time strolling through the World Showcase, this is the activity for you! If you haven't participated in one of Walt Disney World's park scavenger hunts before, you're in for a real treat! Pick up a game board for $9.99 plus tax at one of the below locations and search for Spike the honey bee statues hidden throughout the World Showcase. You'll catch Spike pollinating many of EPCOT's various festival gardens along with a plant stake close by. Your game board includes each garden that has a hidden statue as well as a sticker sheet with one sticker for each of the hidden Spike's within each garden. The stickers are your indicators for the Spike statues that you've found. Once you've found them all, you'll collect a prize!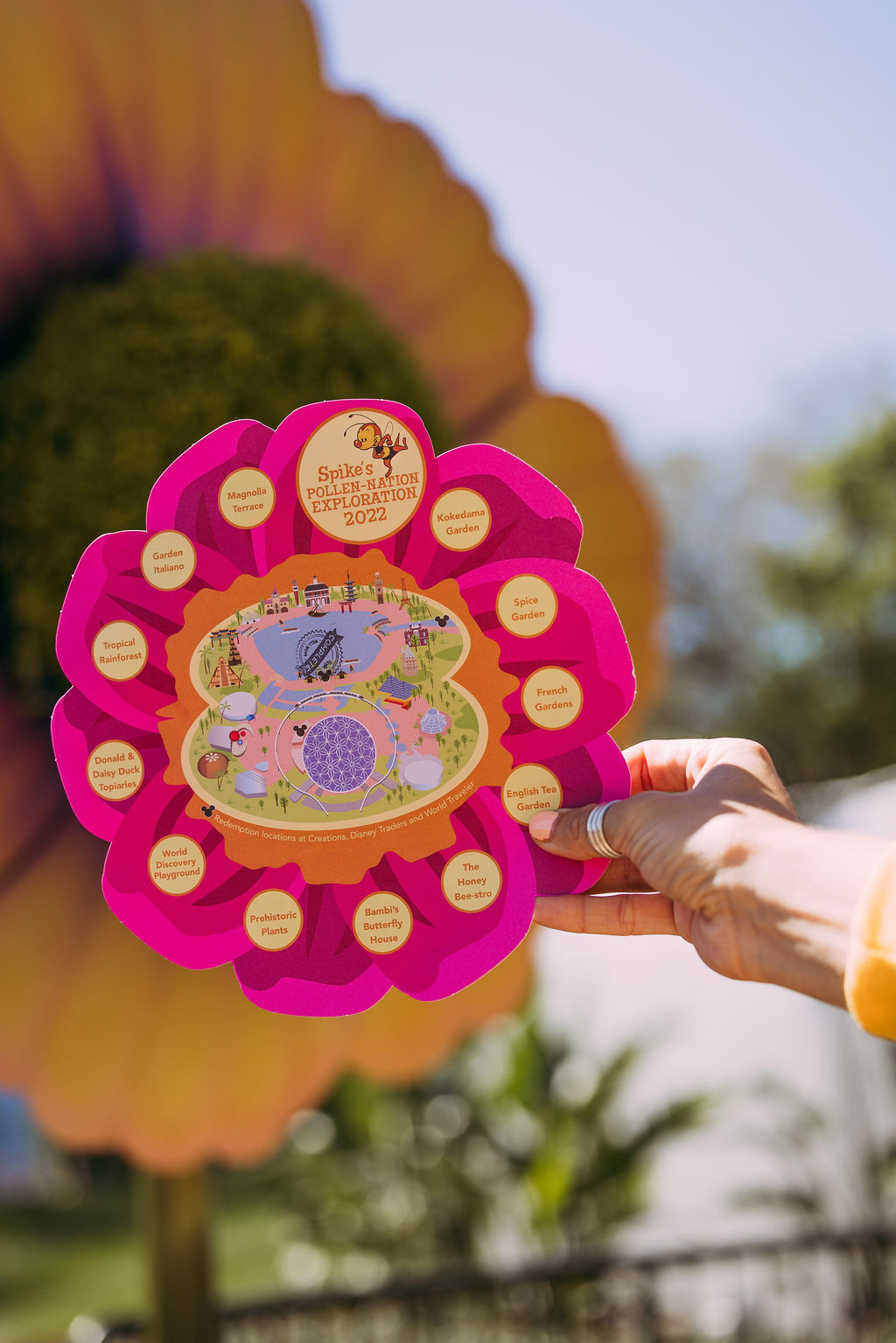 What should I be looking for? You'll be looking for mini Spike statues that are about a foot tall.
Where do I look? All of the Spike statues are located outside in the festival gardens!
Where do I get a game board? Pick up a game board at Mouse Gear, Disney Traders, and World Traveler (International Getaway) throughout the World Showcase!
Can I use my passholder discount? Yes! You can use your annual passholder discount to purchase your game board and save a few bucks!
What's the prize? This year's prize is a Spike plate- and it can be picked up where you purchase your Game Board, at: Pick up a game board at Mouse Gear, Disney Traders, or World Traveler (International Getaway)!
Do I have to complete the board to get the prize? No! You don't have to complete your game board in order to get your prize. Sometimes, when you pick up your game board the Cast Member will have you choose your prize first so you can get it before they run out for the day!
Do I have to finish in one day? Nope! Keep your game board if you don't finish it in one day and come back before July 4, 2022 to finish your scavenger hunt! Make sure to save it along with your sticker sheet!
Garden Rocks Concert Series
The Garden Rocks Concert Series is back for the 2022 Flower and Garden Festival after a 2 year hiatus! Catch a concert during your festival stroll from one of your favorites like Simple Plan, Plain White T's, or TobyMac! Concert viewing is free and can be found daily on the stage at the America Pavilion. The highlight for this year's Garden Rocks Concert Series is the intentional calendar of events featuring internationally recognized artists performing Fridays through Mondays, with bands local to Orlando shredding the stage on Tuesdays through Thursdays.
Be sure to check the Festival Guide for showtimes on the day that you're visiting the park.
Do I need a special ticket for this? You don't! BUT, if you want a guaranteed (and better) seat, book a dining package in advance.
All about the Garden Rocks dining package: 

Garden Rocks dining packages are available at 4 restaurants inside Epcot for either lunch or dinner!

Biergarten
Coral Reef
Garden Grill
Rose & Crown

Guests with the Dining Package will enter America Gardens Theatre in a separate queue for guaranteed seating on a first-come, first served basis.
All guests who don't have a Garden Rocks Dining Package are seated on a first-come, first-served basis until the seating is full. Seats are not guaranteed without a dining package.

When can I see it? Make sure to check your Festival Passport or check the sign for the Garden Rocks concerts at the America Gardens Theater. 

Performances are at 5:30 PM, 6:45 PM and 8:00 PM Friday to Monday.
List of the 2022 Flower and Garden Festival Garden Rocks Performers:
The Guess Who
March 4 & 5
Rick Springfield
March 6 & 7
Melina León – NEW to Garden Rocks!
March 11 & 12
CeCe Winans
March 13 & 14
Mike DelGuidice, currently on tour with Billy Joel – NEW!
March 18 & 19
Kool & The Gang – NEW to Garden Rocks!
March 20 & 21
The Orchestra starring former members of ELO
March 25 to 28
The Spinners
April 1 & 2
The Pointer Sisters
April 3 & 4
Blue October – NEW to Garden Rocks!
April 8 & 9
TBD
April 10 & 11
Tommy DeCarlo, singer of the band Boston – NEW!
April 15 & 16
Don Felder, formerly of The Eagles
April 17 & 18
STARSHIP featuring Mickey Thomas
April 22 & 23
Claudia Leitte – NEW!
April 24 & 25
Berlin
April 29 & 30
TobyMac
May 1 & 2
Blood, Sweat & Tears
May 6 & 7
The Commodores – NEW to Garden Rocks!
May 8 & 9
Ambrosia with Peter Beckett – NEW!
May 13 & 14
TBD
May 15 & 16
A Flock of Seagulls
May 20 & 21
Collin Raye – NEW!
May 22 & 23
Thelma Houston – NEW!
May 27 & 28
Little River Band
May 29 & 30
Simple Plan
June 3 to 6
Herman's Hermits starring Peter Noone
June 10 to 13
Plain White T's
June 17 to 20
TBD
June 24 & 25
TBD
June 26 & 27
Festival Merchandise
Grab all new 2022 Flower and Garden Festival merchandise throughout the park in the many festival shops and markets. This year, Walt Disney World has created a total of FIVE, yes, 5, new merchandise themes. I love that you can keep the joy of this festival at home with you all season long! Whether you're a figment fan, Mickey's best pal, or a friend of Orange Bird, you are sure to find something to love from one (or many) of these merchandise collections!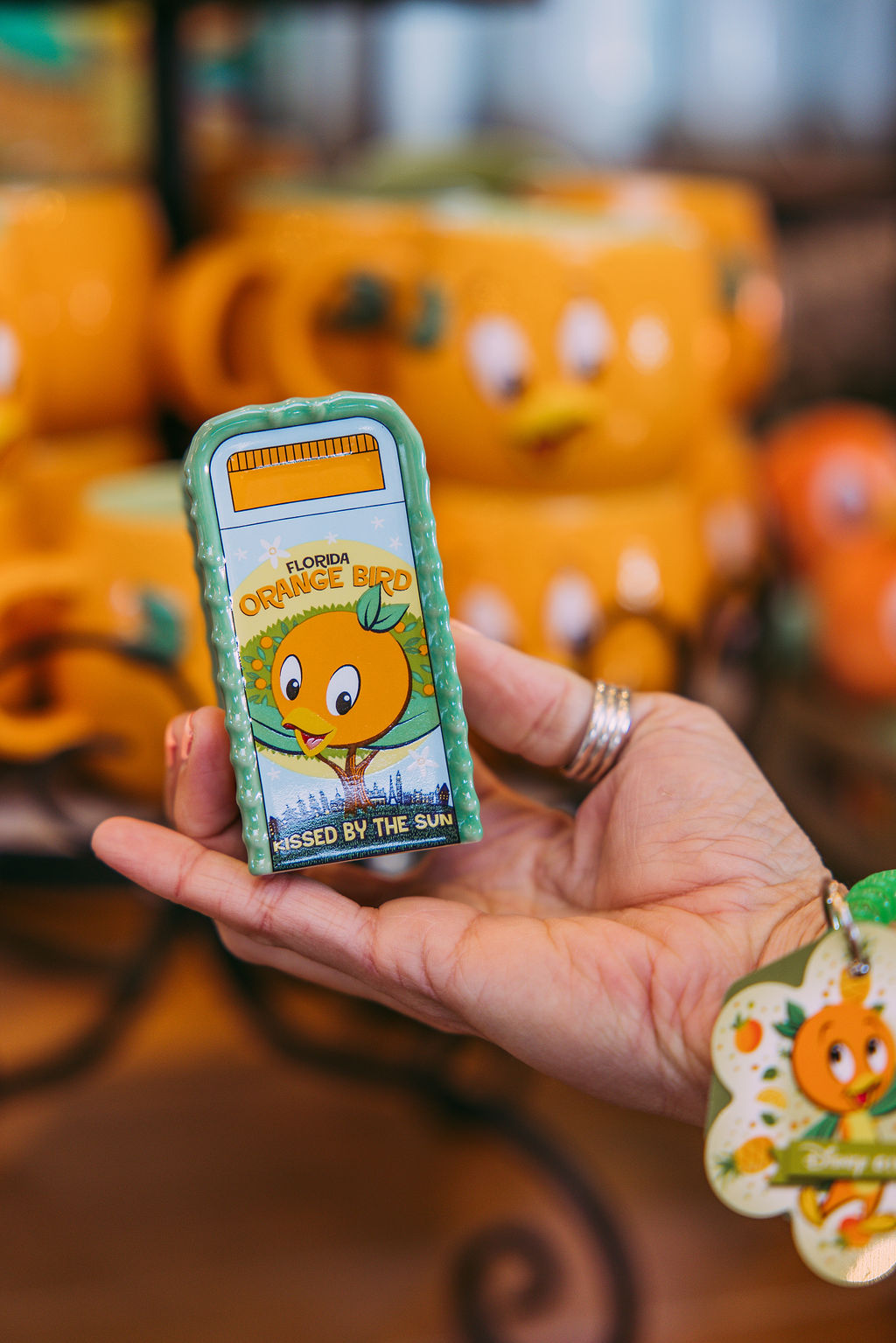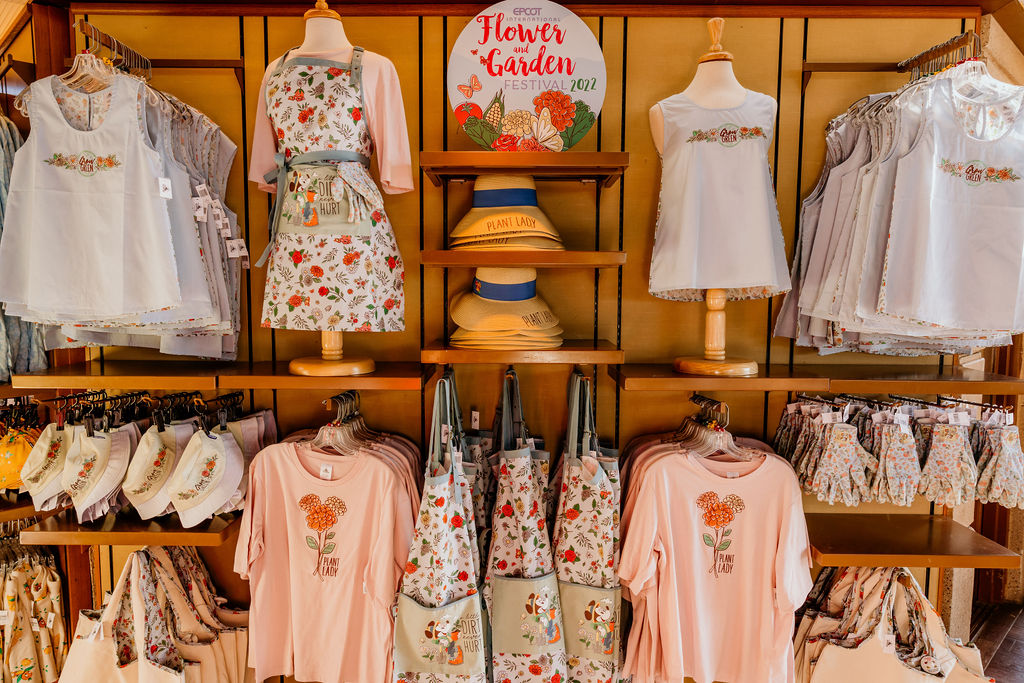 This year's merchandise collections:
Mickey Mouse Home Garden
Mickey adorned home garden-inspired merchandise "featuring vibrant apparel, drink-ware, garden tools & more!"
Orange Bird
Super cute Orange Bird gifts will be available as part of a vibrant collection which includes apparel, accessories, & other items.
Mickey Mouse & Minnie Mouse
A collection that celebrates Mickey & Minnie Mouse through apparel, drink-ware, trading pins, & a festival specific MagicBand.
Figment's Garden
This adorable line shows Figment in themed apparel, drink-ware & more! Nothing BEETS the purple tones featured in this magical collection!
Spike the Bee
You'll find Spike the Honey Bee on several apparel pieces, accessories, drink-ware items, a garden stake, & other collectibles!
For ways to level-up your experience with kids at this year's festival, find out how you can homeschool your kids at the 2022 EPCOT International Flower & Garden Festival!
SEE EPCOT'S 2022 FLOWER AND GARDEN FESTIVAL, LIVE:
If you're looking for a live peek at the experiences taking place in EPCOT at the Flower and Garden Festival this year, head over to Instagram and watch my story highlight for more tips, tricks, and a look at all the fun!