Linc is without a doubt the kid in our home who loves emergency vehicles more than any other. When it came time to pick a party theme for his 5th birthday, there was no denying that he'd have the most epic DIY Fire Truck themed party that I could possibly manage.
As I said in my Modern Mickey Mouse birthday party post, my favorite thing about planning the boys' parties is the customization that goes into making each party special and one-of-a-kind for our boys.
This post contains affiliate links. By clicking these links and making a purchase, I may make a small commission at no additional cost to you.

What I love most about the decor I used for this DIY Fire Truck themed party is that is has all the things a boy loves about fire trucks & firefighters but with a simplistic yet, boutique aesthetic.
Shop Linc's Fire Truck Party: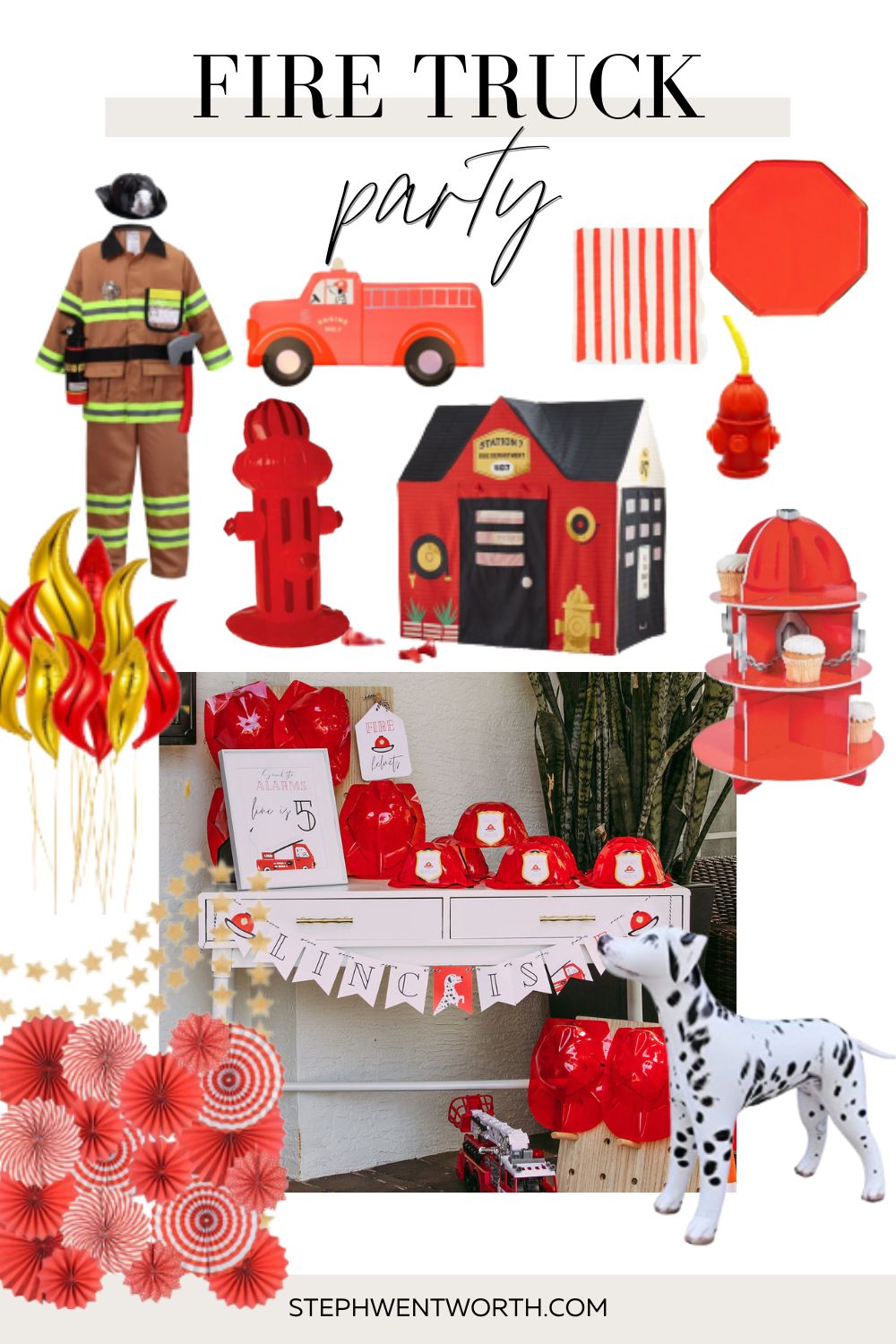 DIY Fire Truck Themed Party Details
I love all the simplistic and boyish details about this party. In planning this DIY fire truck themed party, I focused on things that Linc would love to see and designs that clearly reflected his love of fire trucks and his personality.
Fire Truck Party Food
Since we set up the kids' tables in our front yard to await a big surprise, we decided to keep the menu short and sweet for this party. I typically prefer to do serve a full spread of brunch or barbecue for our party guests to fill them with an actual meal while they celebrate with us but, this party needed something that was less demanding of everyone's time and easy to eat on-the-go! To keep with the theme, we served chips and catering boxes from Firehouse Subs. Everyone appreciated the variety and theming choice, it was a hit!
At the drink station: Fire Engine Fuel (tea) & Lemonade!
Fire Truck Party Treats
For party treats, I went with the usual and our guest favorites: cookies and Publix raspberry filled cake! I made a custom sprinkle mix using red and yellow sprinkle packs from Michaels to add a little extra fun to the cake (totally Linc) and topped it with these extra long gold candles. it was PERFECT!
Fire Truck Party Favors & Treats
I'm super passionate about showing gratitude to our friends and family who choose to spend time during their weekend to celebrate our boys' birthdays. I love to send them home with favors that make them feel special & take a piece of our party home with them!
While I LOVED the lightsaber build station at Kenedy's Mandalorian Party, the affordability of these DIY Dollar Tree mini fire truck sensory kits might make this my favorite favor yet!
How to make fire truck sensory boxes
About 6 months before Linc's party, once I knew we were committed to Fire Truck as his theme, I was browsing the Dollar Tree and spotted these small, clear, matchbox car boxes. I snagged every single one on the shelf because I knew I could use them for something great. I didn't know exactly what that would be but, I just knew it would be adorable!
Everything I used in the DIY Mini Fire Truck Sensory Boxes:
Matchbox Car Boxes – Dollar tree (find them in the toy section near the car toys)
Red Mesh Hose – Dollar Tree
Pullback Fire Trucks – Hobby Lobby
Squirt Fire Hydrant Toys – Hobby Lobby
Jumbo Bubblegum Beads – Hobby Lobby
Adopt a Fire Puppy
Out of all of the take home gifts for the kids, I think this was Linc's personal favorite! As soon as his friends began arriving, he was handing out puppies to them. It was super sweet and three weeks later, the boys are still cuddling them at night!
I ordered these fire puppies, created collar tags for the kids to customize with a puppy name, and cut pipe cleaners to size for the kids to each adopt and collar their own fire partner!
Custom fire helmets
It wouldn't be a proper fire party without fire helmets so, I ordered these fire helmets (they're thin & flimsy so not for more than one use) and created custom name labels for each of the kids! They loved having helmets with their own names on them! (And as a mom of 4, it kept everyone from fighting over who's was who's!)
Boutique Fire Truck Party Decor
When it comes to the decorations, I like to DIY as much as I can in an effort to save money & fulfill my creative energy! I designed a custom printable set with invitations, thank you tags, signs, food labels, and straw flags to match the boutique style, simplistic theming of the other party supplies.
I love how simple and inexpensive this paper fan backdrop turned out! I hot glued a fire truck paper plate to the center of one of the fans and it really pulled it all together!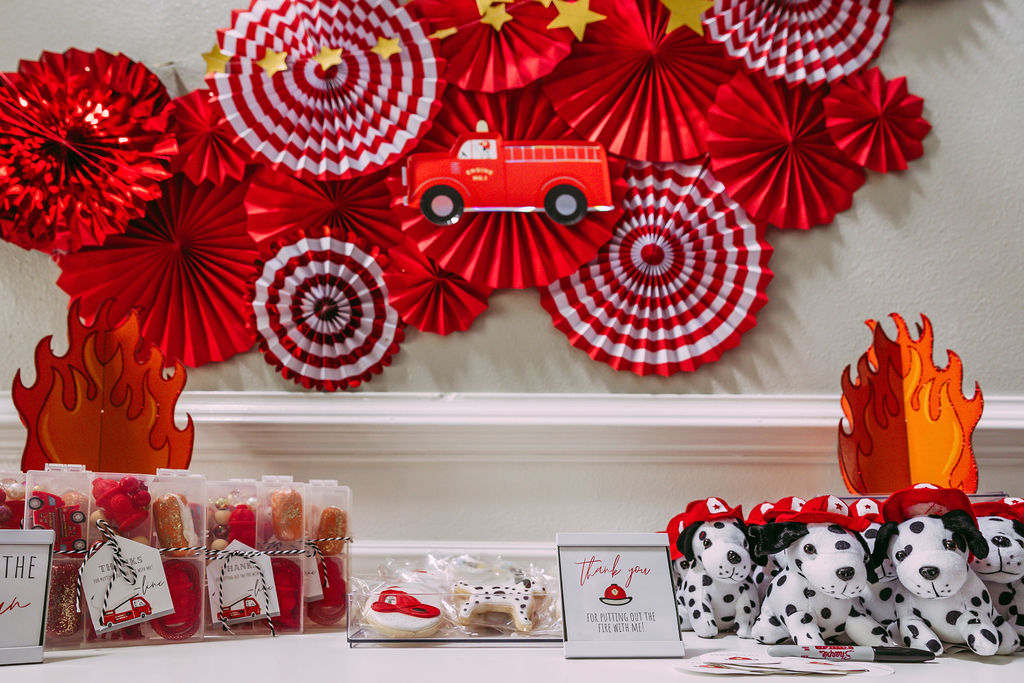 I had been looking at this firehouse playhouse for about a year. I knew Linc would LOVE it and really wanted it to be the gift from us for his birthday. I saw a perfect vision of setting it up for him the night before his party, along with the rest of his decorations so he could play with his friends before enjoying it on his own once they left! It was (and still is) a FAVORITE!
I set it up with a DIY balloon garland and an inflatable Dalmatian and fire hydrant. It was absolutely adorable and greeted our guests as soon as they walked in!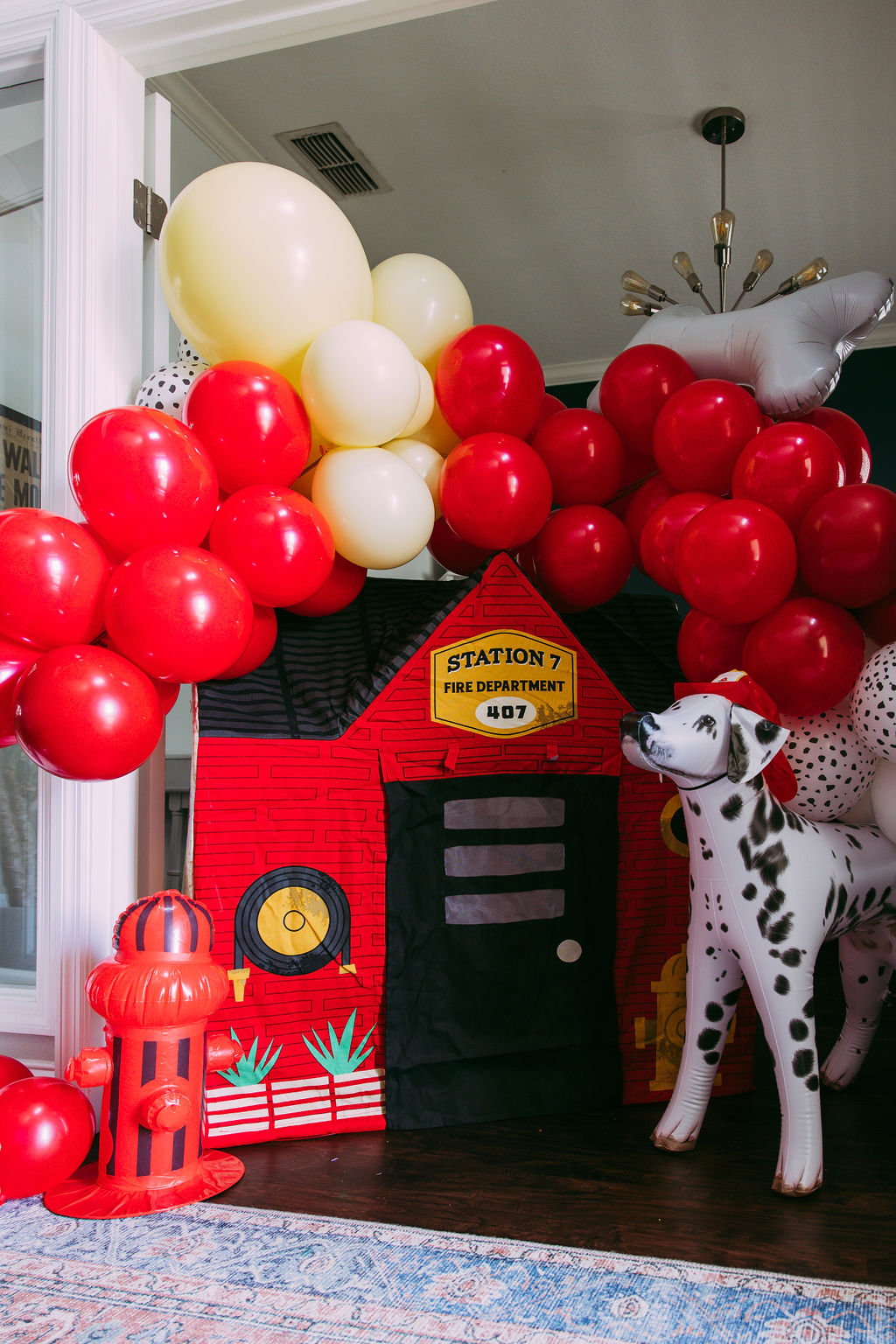 Kid Tables
Like party favors, I love making our little guests feel special with their own place to snack, do activities, and chill. So, I put most of my time and planning into coordinating kid tables! I'm using my FAVORITE party planning hack that I created last year: DIY foldable kids' table! Using the LINNMON table top from IKEA and these folding table legs, I created gorgeous, reusable, easy-to-store tables for all of our parties!
As with the rest of this party, I love how simplistic yet, totally themed these table designs turned out! The Firetruck plates and hydrants were SO loved by all of the kids! I filled Kraft gable boxes with a Firehouse Sub tied with a tag that said, "stop, drop, and sub roll." I also added a bag of chips, and a fruit cup!
Table Details:
Centerpieces- Hobby Lobby
Forks – Packed Party from Walmart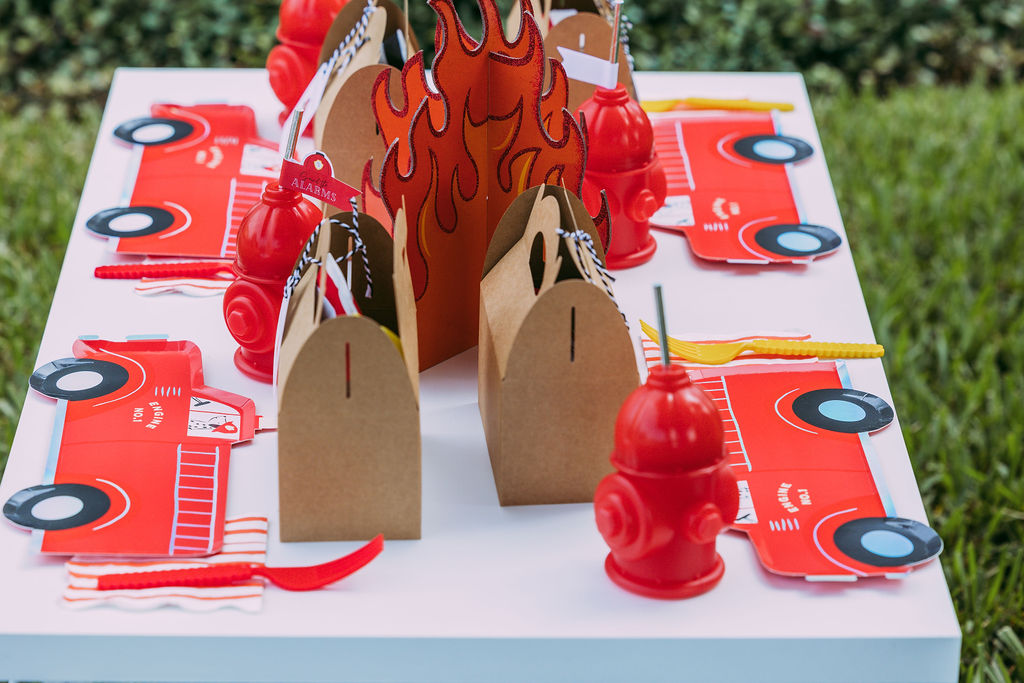 The Big Surprise
The one thing Linc kept saying up until the day of his party was, "I really hope a real life firefighter is coming to my party with his fire truck!" So, you know I did everything in my power to try and make that happen for him! Because our department's truck recently went blue, I wanted him to have the love and nostalgia of a red truck with the absolute joy & admiration of a real firefighter. I reached out to a friend who I had hoped would have a contact for someone who owns vintage fire trucks and BOY, did she come through!
To see Linc's Fire Truck birthday party in real-time,
watch my story highlight HERE!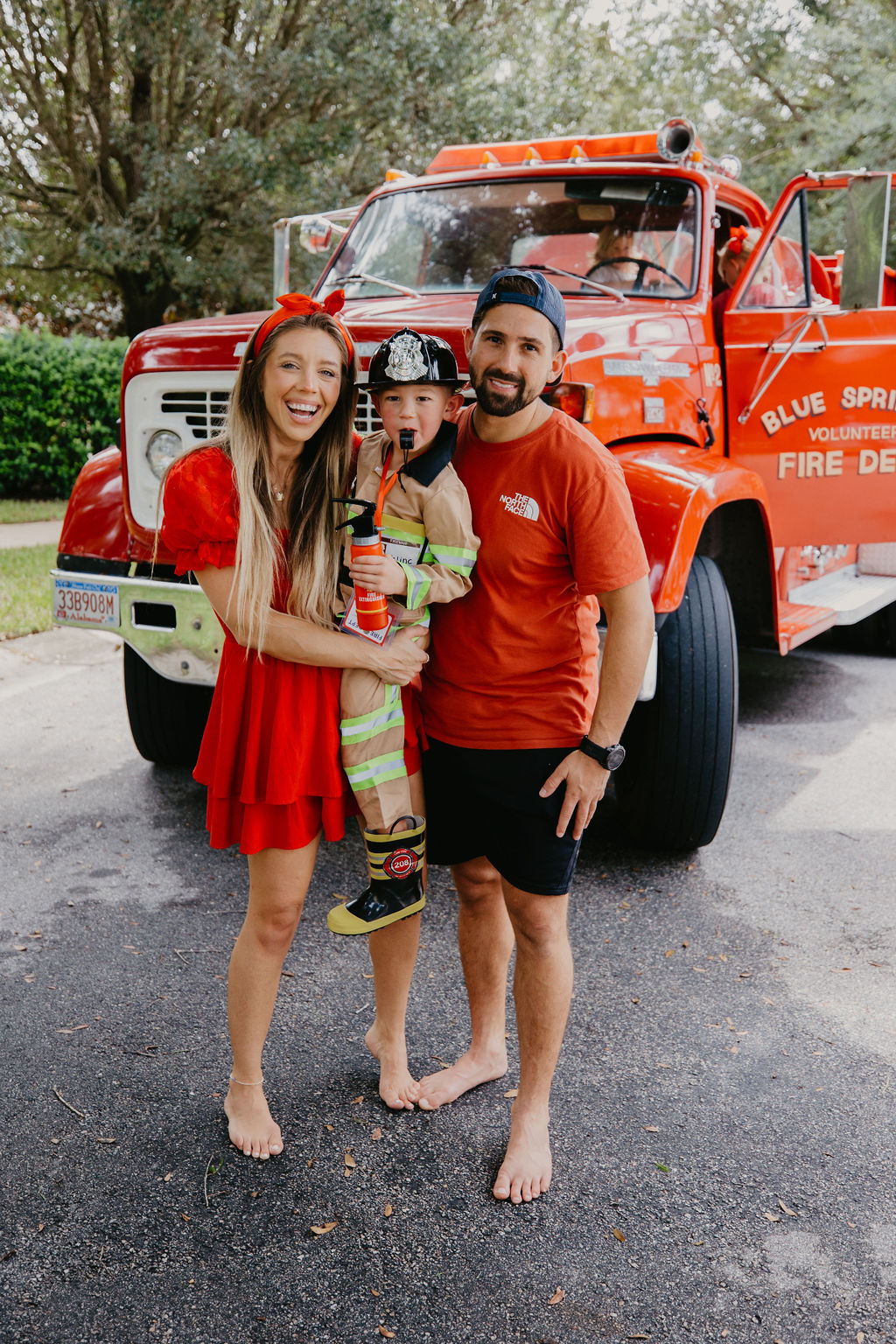 At the time of scheduling the rental for this red fire truck, the hose wasn't actually running but, the owner promised he could do everything he could to have it up and running for the day of Links party so they could spray the hose and by all the miracles, he did! AND IT WAS EPIC. When I tell you this day was full of all the big mama emotions…I think I cried the majority of the day because I was so happy to see how excited he was. It was truly the best party I think we've had to date.
To see Linc's Fire Truck birthday party in real-time,
watch my story highlight HERE!