When Thanksgiving rolls around each year, there is one dish everyone in our family expects to be in our spread: Sage Stuffing.from scratch (or for some, dressing). We lean more into "stuffing" rather than "dressing" – technicalities with the turkey are unnecessary in the name around here.
---
This post contains affiliate links. By clicking these links and making a purchase, I may make a small commission at no additional cost to you.
---
For years, I've worked to perfect this recipe with just enough moistness, a tad bit of crunch, and superior savory flavor. We spend all day in the kitchen breathing in the amazing aromas of sage, garlic, and celery. It's the one dish that everyone scoops onto their plates over and over again for seconds, thirds, and a late night snack but, unless I specifically make a second pan of it, it never makes it in the fridge for leftovers.
Why we love this Sage Stuffing from Scratch
One of my favorite things about sage stuffing, isn't necessarily the dish itself but, because it brings so much joy and fulfillment to our family, it has precious memories attached. I lay all of the ingredients out onto our counter , pull out pans, bowls, utensils, and one by one tie each of the boys' aprons. We all crowd together over the countertop while someone cuts celery, another presses garlic, one pulls the bread apart into cubes, and we all jam out to Christmas favorites on the Google Home.
The camaraderie within our family when all of our boys come together to create something we all love, it's magic.  As a young mom, a priority for me was to create traditions the boys would grow up loving and looking forward to year after year. I had envisioned traditions looking more like grand gestures of overly decorated birthday parties, big trips, and experiences that required a lot of spending. Over the years through more babies, home moves, and new responsibilities, those visions changed.
While we don't have as many intentional traditions, we have this moment. This moment of making THIS exact dish together every year for Thanksgiving and Christmas. We spend the entire day at home prepping, cutting, baking, sautéing, and smelling the most amazing aroma of sage stuffing. It's one of those things that's never forgotten. It somehow just happens. Every year. This dish. These boys and their mama. The amazing smell. It's a tradition that became a tradition all on its own and it means so much more than an extravagant birthday party or expensive experience because it's just us. I hope as my boys get older they come home to us for Thanksgiving at moms every year. As their families grow and move, I hope they come home for this and I hope you come to love this dish as much as we have.
Shop My Thanksgiving Kitchen Essentials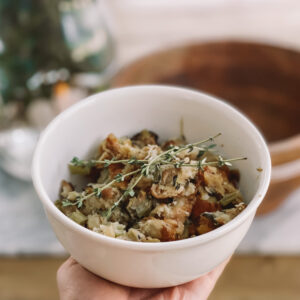 Sage Stuffing from Scratch
Ingredients
2

Loaves

White Mountain Bread

cut into 1-inch cubes

16.9

oz

veggie stock or turkey stock

or 2.5 cups

2

large brown eggs

8

tbsp

Unsalted Butter

2 tbsp for melting

3

Yellow Onions

10

Celery Stalks

8

Cloves Garlic

pressed

1/2

cup

Chopped Sage Leave

8

sprigs

Leaves of Thyme

Salt

Fresh Cracked Pepper
Instructions
Heat to 225°F. Spread the bread cubes on a large rimmed baking sheet. Bake until quite crisp, stirring every 30 minutes, about 90 minutes total. Meanwhile, prepare the remaining ingredients. While bread cubes are toasting, prepare your other ingredients.  

Grease with butter an 11 x 7 or 5 quart large baking dish and set to the side. 

Melt 6 tablespoons unsalted butter in a large pan on medium to high heat. Add in your diced celery, yellow onions, and pressed garlic. Frequently stir and cook until the veggies are super soft. Stir in thyme leaves and chopped sage for the last few minutes. Remove from heat.

Grab a bowl and pour in your stock, 2 large brown eggs, salt, and fresh cracked black pepper. Whisk to break yolks and combine.

Add half of the toasted bread cubes with half of your garlic and onion mixture to a very large mixing bowl and fold to combine. Add the second half of the toasted bread cubes with the last half of your garlic and onion mixture. Fold and combine all ingredients in the bowl. Your bread will start getting a bit soggy at this point, looking more like wet stuffing. 

Melt the last 2 tablespoons of butter and add into the folded mixture. Stir until even.

Slowly add in your egg mixture to the very large mixing bowl folding in until even. 

Scoop into the prepared baking dish, making an even layer. 

Cover tightly with aluminum foil and refridgerate up to 24 hours OR bake immediately in the center of the oven, covered at 375°F for 30 minutes. The top should start turning golden brown and lightly crisping. Uncover to bake another 20 minutes. *Add additional 10-15 minutes if baking from the refridgerator. 

Let sit for 10 minutes before serving.