I love surprising our boys with something extra special for each holiday, even if it's just a few sweet treats! This Halloween since we're still keeping our bubble pretty tight and not doing full blown Trick or Treating this year, I put a little spin on our traditional Boo Basket! Instead of just creating a fun basket for our neighbors, I pulled together some of the boys' favorite things, filled up this DIY Skeleton Treat Bag, and surprised them at the bottom of the stairs when they woke up!
This post contains affiliate links. By clicking these links I may make a small commission at no cost to you.
This was the perfect kick-off to including the boys in creating a bit of spooky fun for our neighbors!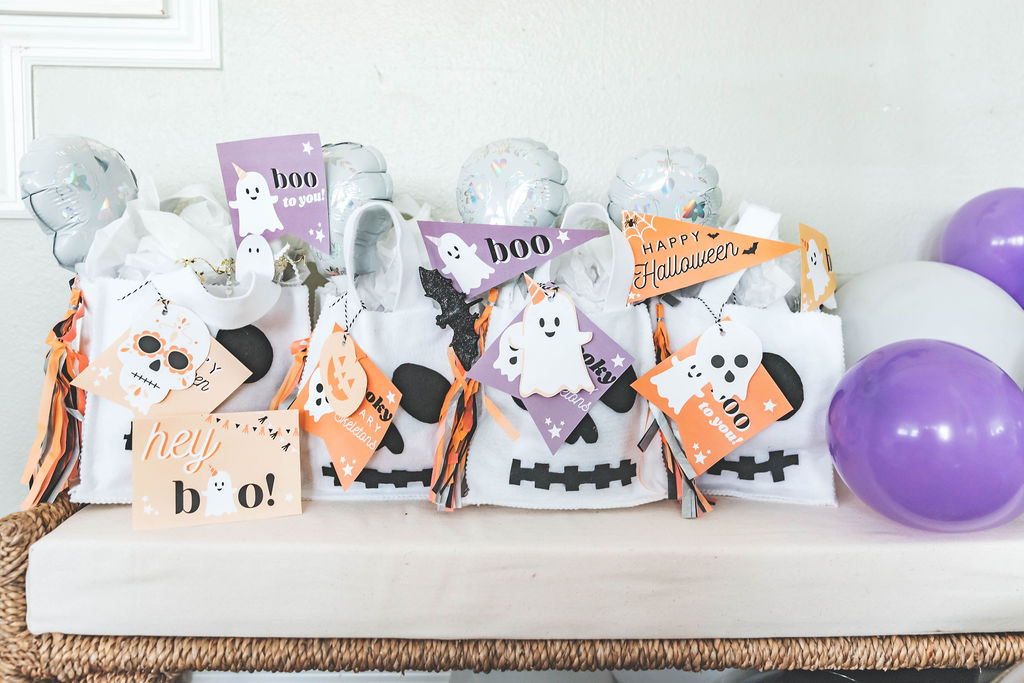 Want the free printable pack?
Click to download the Orange Pack or the Purple Pack!
For your neighbors' boo baskets, you'll want to grab a few fun treats & small gifts. Place them into a basket or gift tote, and attach one of the tags, paper charms, and pennants from the printable pack! Make sure to leave the instructions card, "We've been booed" sign, and a "You've been booed" tag in their basket in order for them to pass along the fun!
Choose an inconspicuous drop-off time to ensure that you won't get caught!
Happy Hauntings!
Need ideas for kids boo baskets?
I've got you covered!
Skeleton Onesie / Baby's First Halloween Book / Earth's Best Pouches / Mickey Bucket
Stickers / Play-Doh / Pencils / Mickey Bucket / Ghost Cookie / Five Little Pumpkins Book
Stickers / Play-Doh / Pencils / Mickey Bucket / Ghost Cookie / Spooky Street Book / Blue Hair Coloring
Stickers / Play-Doh / Pencils / Mickey Bucket / Ghost Cookie / Fright Club Book